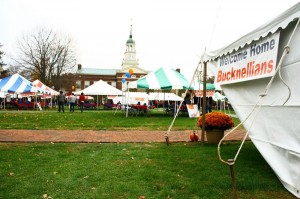 By Olivia Seecof
Writer
Faculty, staff, current students and alumni enjoyed an afternoon of academic socializing at the Homecoming Academic Village last Saturday.
Story continues below advertisement
This large event started four years ago in order to bring an academic element to Homecoming festivities.
"[The event] is gaining in familiarity among the Bucknell community. Having it outside is great because the environment looks more inviting and exciting," said Jenna Tesauro, program director of academic interests.
Several tents representing different University majors and departments filled both the Academic and the Engineering Quads. There was a tent for faculty, staff, students and alumni to register for the annual tailgate luncheon and to receive food and beverage tickets. The "Little Bison Zone" provided a recreational space for children of alumni.
"It was cool to see so many people exploring and socializing in all of the tents.  It made me realize that even after we graduate from Bucknell, we still have a strong community here to support us," Jennie Means '14 said.
Most of the University's academic departments were represented at the Academic Village, and were permitted to do whatever they chose with their tent. In years past, members of the College of Engineering put on miniature science and engineering experiments for some academic-related entertainment.

Between 500 and 800 people pass through the fair each year, according to Tesauro. Many explore the different departments and reunite with old acquaintances.
"The Academic Village provides a really good opportunity to catch up both with people from your major and with past professors," Jessica Robinson '06 said.
"I love [this event] because I get to see and talk to all of my students," said Alison Patterson, pre-health professions advisor.
The event sought to inform alumni about current academics at the University while providing an environment in which the entire campus community can interact.

(Visited 102 times, 1 visits today)