Athlete of the Week: Michael McGowan, Men's Cross Country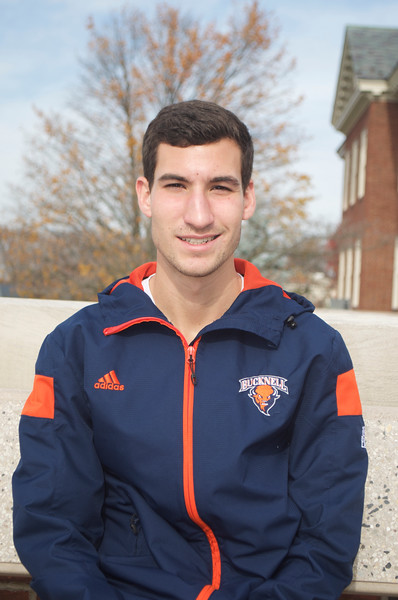 Athlete of the Week
Michael McGowan '15 might have put in his best performance of his four-year collegiate career as the runner-up at the Patriot League Championships. His time of 24:05.20 helped lead the Bison to a second-place finish behind Navy, the best performance for the Bison since they finished second in 2001 and four spots better than last season.
A member of the First-Team All-Patriot League, McGowan was just 8.20 seconds behind the leader from Navy in the 108-person field. His crisp pace sat at 4:50.8 per mile on the rainy course. Andrew Garcia-Garrison '15 finished third (24:07.00) and John Dugan '15 finished 13th (24:28.30).
This was the fourth event of the year for McGowan, one of the most experienced runners for the Orange and Blue. He finished in ninth out of 260 runners (12:13.10 in a 4k) at the Dickinson Invitational on Sept. 20, and placed 57th out of 110 runners (25:42) at the Panorama Farms Invitational less than a week later.
His most recent meet before the Patriot League Championships was on Oct. 18 at the highly-competitive Princeton Invitational, where his time of 24:53 was good for 32nd out of 301 total runners.
One of six seniors on the 26-person men's cross country roster, McGowan has had an extensive career at the University, all culminating at the Patriot League Championships. Back in the 2013-2014 season, he was the top Bison finisher in all six of the meets he competed in, earning All-Patriot League honors.
He is also talented in the classroom. As a major in economics, McGowan is a member of the the University's Dean's List and Patriot League Academic Honor Roll.
McGowan and the rest of the Orange and Blue have a week off before competing in the NCAA Mid-Atlantic Regional Championships on Nov. 14.
(Visited 268 times, 1 visits today)