Mother raises rape awareness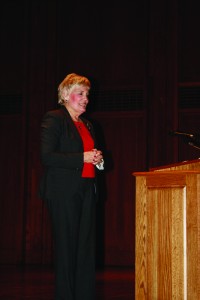 By Christina Oddo
Writer
"A rapist can be the boy next door. They have no particular look to them," the mother of a suicide victim said Tuesday in the Weis Center for Performing Arts.
University students, Greek and non-Greek, and faculty joined together to listen to "Kristin's Story," the tale of a Baker University student and Alpha Chi Omega sorority member who committed suicide on New Year's Eve 1995 after experiencing acquaintance rape.
Andrea Cooper, Kristin's mother, has been sharing her daughter's story for the past twelve years and discussed assaults, suicide and depression in her address to the campus.
Cooper said that after automobile-related accidents, suicide is the second-most prevalent cause of deaths in people aged 10 to 24. She said that this trend will soon be evident in elementary schools.
Nearly 90 percent of all rapes are committed by a friend, relative or acquaintance, Cooper said, adding that more than 50 percent of college women have experienced sexual aggression from acquaintances. Cooper's daughter Kristin was presumably raped by one of her fellow lifeguard friends.
As her family found out later, Kristin was clinically depressed. Cooper said the signs of depression include sadness, helplessness, difficulty concentrating and failure to maintain grades.
People with depression may experience feelings of guilt, worthlessness, irritability, excessive crying, chronic physical aches and pains that do not go away and thoughts of death and suicide, she said.
Cooper encouraged everyone to visit Depression.com or Depression.org to assess symptoms of depression.
Cooper cited statistics regarding the actions of rape survivors. She said that 46 percent of survivors of date rape told no one about the incident, 27 percent of survivors of stranger rape told no one and more than 95 percent did not report the rape to the police.
"Rape is the crime of the heart for the victim and a crime of convenience for the perpetrator," Cooper said.
Cooper presented a list of actions to help a friend or family member with assault or rape.
First and foremost, she said, believe the victim because 96-98 percent of the time, when a woman reports a rape, she's telling the truth (U.S. Dept. Justice; Lonsway, et al, 2007).
Secondly, listen and do not post judgment. Offer shelter, be attainable and give comfort. It is important to be patient and understanding, but not overly protective, for it is critical to give the victim room to make her own to decisions and to do her own thinking, Cooper said.
Encourage action, and offer to go with the victim to seek help and guidance, she said. Accept the victim's choice of solutions, and put the victim's emotions and feelings first, not your own.
Cooper said the campus community should not be afraid to use the rape crisis hotline 1-800-656-HOPE and the website www.911rape.org.
(Visited 61 times, 1 visits today)