Univ. sees increase in early decision applications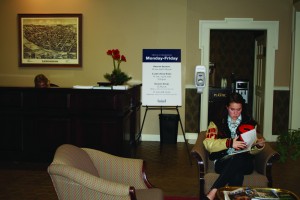 By Meghan Finlayson
Staff Writer
Early Decision applications increased by 29 percent this year, according to the Office of Admissions.
"Currently, we have 539 ED applicants…On the same date last year, we had 417. Two years ago on this date, we had 427," Dean of Admissions Robert G. Springall said.
Springal said there are clear advantages to applying early.
"If you apply early, students have the potential to finish the process in December, instead of May, as well as demonstrate to the University an advanced level of interest in that particular school," Springall said.
Other advantages are more subjective.
"Since ED applications are binding, many ED applicants have visited campus several times and are convinced that Bucknell constitutes the ideal college experience. Applying ED is also appealing because of the smaller candidate pool-applicants feel they have a better chance of being accepted," said Lindsay Machen '11, e-mail intern for prospective students.
This application trend is experienced at schools nationwide. Early decision and early action applications are up at competing universities as well.
"Many [schools] have seen 10 to 20 percent increases," Springall said.
The University's applications are up by a larger percentage than most competing schools.
"We have seen more visitors to campus, more e-mails, more web traffic, more 'likes' on Facebook … I think we're ahead of [the] curve because we've been continuing to encourage people to visit campus and engage current Bucknellians, faculty and staff," Springall said.  "When they see this campus and Lewisburg and meet our people, they become more likely to apply, and … enroll," he said.
Current University students have noticed improvements as well.
"Bucknell is constantly working to improve the school and as a result it is continuously developing," tour guide Jenna Masi '13 said. In her conversations with prospective students, and being a prospective student once herself, Machen knows what it's like being on the other end.
"The most typical question I receive about ED applications is when students will hear of their admissions decision," she said. "It is a nerve-wracking process on both ends of the spectrum. ED applicants are both nervous and excited to hear about whether they've been accepted to Bucknell—some prospective students send me two to three emails a day confirming the receipt of different elements of their application," Machen said.
Although early decision applications are generally up, the financial aid office has not seen many changes.
"Usually about 40 percent of the students who apply for ED admission also apply for aid…at this time, I have not seen a marked increase in ED financial aid applications," said Andrea C. A. Leithner Stauffer, director of the Office of Financial Aid. "However, applications are still coming in, and ED2 applications will still arrive throughout January, so it is a little too early to tell if there will be an increase," she said. She said that if finances are a major concern, however, early decision may not be the best choice.
The University has used the early decision application process for many years but the admissions office also takes regular applications very seriously.
"For Bucknell, we need to be mindful that the majority of college applicants are not ready in November to make a final decision," Springall said. "They need to explore more options, think about their financial and personal circumstances. We need to have plenty of space available for them as well," he said.
(Visited 181 times, 1 visits today)