Community 'plunges' into Susquehanna
By Katherine Schotz
Contributing Writer
The cold weather and icy conditions did not deter over 200 people from participating in the sixth annual Polar Bear Plunge on Feb. 5 at the St. George Street landing. This fundraiser, part of the Heart of Lewisburg Ice Festival, raised about $1,500 for the Lewisburg Downtown Partnership.
Although an e-mail was sent concerning the possibility of a cancellation, the fundraiser went on as planned.
"It was freezing but definitely worth it," Rebecca Becker '11 said. "The energy was great and I would do it again."
In order to participate, each participant pays a registration fee that benefits the Lewisburg Downtown Partnership, which in turn helps the Arts and Ice Festivals in Lewisburg.
The University's Office of Civic Engagement runs this event every year. This year, over 200 people participated by plunging into the Susquehanna River, up from about 100 people last year.

According to Lynn Pierson, Assistant Director of Community Service at the University, more people showed up the day of the event to take part in the Polar Bear Plunge, even though they had not registered beforehand.
Pierson commented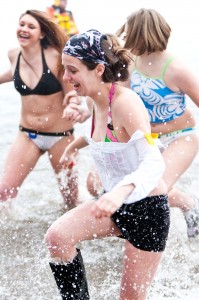 that the official total of money raised was still being calculated as of Monday. It was clear, however, that enough money had been raised to make a sizable contribution to the community.
"As a senior, I'm glad that I can give something back to Lewisburg," Becker said.  "The Plunge was a really fun and easy way to do that, even though I almost slipped."
There were two fire department officials in the river as well as other personnel standing by for safety purposes in case anyone needed help, but there were no emergencies and the EMT staff were able to enjoy the fun.
People were dressed up in fun costumes and bright colors. Some groups chanted and jumped up and down to keep warm before being given the go-ahead to start, but most of the participants managed to emerge from the river with a smile.
"I'm surprised that so many people come and actually go in the water," Sarah Tallett '11 said. "I think it's really great that there is such a mix of people here from Bucknell and from Lewisburg."
The continued success of the Polar Bear Plunge has guaranteed that the event will be back for a seventh year, Pierson said.
(Visited 85 times, 1 visits today)