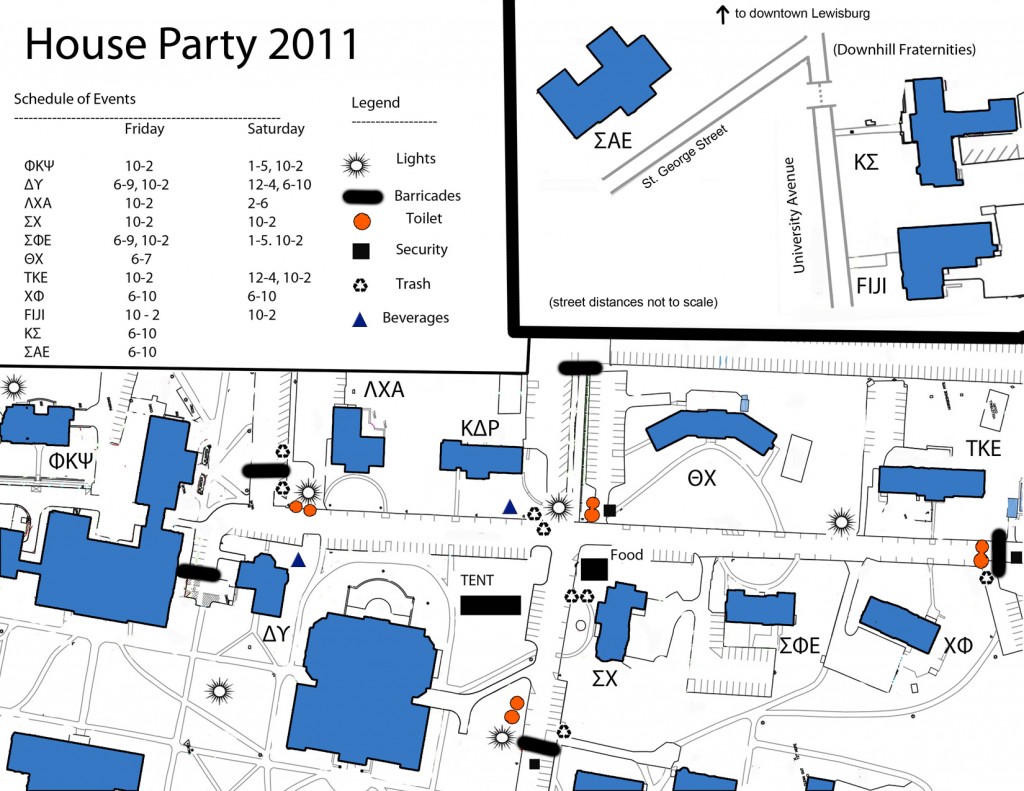 Story continues below advertisement
By Meghan Finlayson
Staff Writer
The University's annual House Party Weekend kicks off today with numerous events being held on campus. Many organizations have put in a lot of work to prepare for this highly anticipated weekend.
Almost all fraternities are featuring live music, such as the Bruce Springsteen cover band Tramps Like Us at Sigma Alpha Epsilon on Friday night. In addition, the DJ mash-up group The White Panda will be featured by Kappa Sigma.
Saturday afternoon Phi Psi is featuring the band Franzo and Friends, who will perform oldies by artists such as Jimmy Buffet, Eric Clapton and Van Morrison. Along with the vibrant music, many of the fraternities will be hosting barbeques throughout the day.
Saturday night, Delta Upsilon is featuring Hoodie Allen, while Phi Gamma Delta is hosting IMG, TOD and Mic Galper, and Sigma Phi Epsilon is featuring The Dean's List, among others.
Theta Chi, although not hosting a band, will be giving out free pizza and playing games on the lawn Friday evening.

Additional groups besides fraternities have also planned events. Tonight from 8-10 p.m., CHOICE is hosting a game night in Kress basement, and on Saturday, from 10 p.m.-12 a.m. it are hosting karaoke and dancing at Uptown, with cash prizes.
"We've had a karaoke event for House Party for the past couple years, and it's always turned out well," said Rush Chaklader '11, one of the Student Programming Assistants for CHOICE.
The Craft Center will have extended hours from 12 p.m.-12 a.m. today and Saturday.
"We will be offering half-price glaze and fire from 5-midnight on both evenings," said Kelly Finley, Program Coordinator of the Residential Colleges.
The Lewisburg community is also involved. The newly opened pizza restaurant Pizza Phi, located at 316 Market St, is donating five percent of all sales Friday through Sunday to Children's Miracle Network at Geisinger Hospital in Danville, Pa. When ordering, the word "P-Safe" must be mentioned to secure the donation. Public Safety and an anonymous donor have pledged to match the donations.
Six House Party information sessions were held Monday night by the University's Interfraternity Council (IFC). These sessions went over policies and procedures, and answered any questions students had.
"IFC is working harder this year to make sure students outside of the fraternities are aware of the policies and procedures," said IFC president Michael Higgins '12.
IFC and the Department of Public Safety have taken care of safety precautions for the weekend.
"Public Safety has taken the lead, meeting and planning with the IFC, Greek Life, Facilities and other on-and-off campus resources to ensure all safety and preventative measures are in place. These measures include lighting, food and alternative beverages on Fraternity Road. Additionally, we do all pre-party inspections and require a break between parties to clean and restock," said Jason Friedberg, Chief of Public Safety. "We use all of the local security companies to provide security across campus … many of the fraternities have contracted with the security companies to provide party security."
All students attending are required to register themselves and any guests and obtain a wristband. Greek students can register four guests and non-Greek students can register two. According to Higgins, about 200 guests are expected to attend.
"Last year, the event was the safest it has ever been, and we intend to work to make sure that is continued," Higgins said.
IFC is also selling House Party t-shirts.
"House party is one of the most highly anticipated weekends at Bucknell, and I am so excited for the live music and to see the alumni," Paige Cobbs '13 said.
(Visited 1,102 times, 1 visits today)