Athlete of the Week: Connor Van Hoose '18, Baseball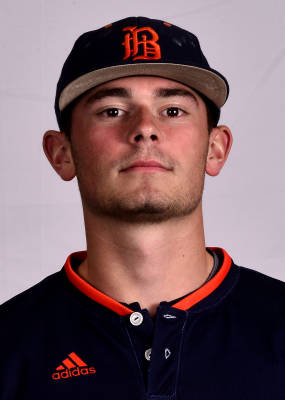 Right-hander Connor Van Hoose '18 pitched the fifth no-hitter in Bison history as the baseball team faced off against Lehigh on April 21. Consequently, Van Hoose was named the National Collegiate Baseball Writers Association's National Pitcher of the Week, a testament to his success. Despite the spotlight, Van Hoose remains humble and credits much of his success to his teammates.
"Baseball is a team sport and I couldn't have nearly the success I've had this season without my teammates behind me," Van Hoose said. "The key to any starting pitcher is consistency, and I know if I pitch the way I am capable and my team hits behind me, like they have been all season, we have a good chance to beat any team in this league. It feels good to have that confidence in myself and my team to start every weekend."
Even before pitching the no-hitter, Van Hoose reflected on the current season and how pleased he was with the success that the Bison have seen.
"For me, there has not really been one singular moment this season, but I think a combination of the last few weeks of Patriot League play," Van Hoose said. "I don't think there is anyone close to as good of a one and two as Jeff [Gottesman '19] and I have been this season. We both put a lot into preparing for this season, and to see the success it has produced is awesome." This proved true as he took on the Lehigh Mountain Hawks, making a name for himself in school history.
Van Hoose saw success throughout his career, so this season's trend was nothing new for the Virginia native. Entering the 2018 season, Van Hoose had already made 27 appearances for the Bison, including 18 starts and one save.
"For my career, [my favorite moment] has to be the semi-final series against Navy last season. We were supposed to get swept, but for myself and Mike Castellani ['17] to each throw complete games and our offense to back us up and take the series in two games was one of the proudest moments of my life. That team was special and for us to prove it against the number one seed Navy meant a lot."
While the latter part of his career has certainly seen the largest concentration of success, this can be attributed to the hard work Van Hoose dedicated to his career from the very beginning. Right before he started his career for the Orange and Blue, Van Hoose faced what he calls his biggest challenge.
"I had elbow surgery right before my freshman fall [semester] and because of that surgery I had to sit out the whole fall and most of the spring. I had no way to prove my worth on the field to my team and I had to wait basically until my sophomore year to really throw at my full potential. That year, I had to learn what it meant to be a teammate off the field rather than just between the lines," Van Hoose said.
Looking forward, Van Hoose is excited about the rest of the season. He particularly looks forward to the playoff games.
"I think this year is going to be special. Once playoffs start I wouldn't want to be the lineup that has to face us."
Bison baseball will travel to face off against Lafayette in a doubleheader on April 28-29.
(Visited 82 times, 1 visits today)