Week of Service inspires students to volunteer
By Courtney Flagg
News Editor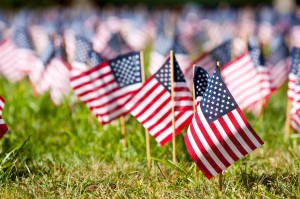 University students, faculty and staff took part in the Sept. 11th Week of Community Service. The event commenced Friday, Sept. 10 with the annual remembrance ceremony and ended Thursday, the final day of community service.
Beth O'Brien '12 opened the remembrance ceremony last week with a short speech emphasizing the importance of honoring the lives lost, followed by a prayer made by University Chaplain Thomasina Yuille that concentrated on new ways of appreciating one another.
The remembrance ceremony ended with popular campus a cappella group Beyond Unison sharing their renditions of "Hear You Me" by Jimmy Eat World and "Hallelujah" by Rufus Wainwright.
In 2009, President Barack Obama signed a law making Sept. 11 a National Day of Service and Remembrance. As a way of honoring the lives lost in the Sept. 11 terrorist attacks, the University planned four community service activities spanning Sept. 14 to Sept. 16.
"The Week of Community Service was established this year. Obama declared Sept. 11 a day of service and remembrance, so we decided to try and uphold this by planning a week of service across campus in honor of the victims. The founder of VOICES of September 11th, Mary Fetchet, lost her son in the attacks. He graduated from Bucknell in '99," Isabelle Catalano '12 said.
VOICES of September 11th is a non-profit organization that provides information, support services and annual commemorative events for 9/11 families, rescue workers and survivors. O'Brien interned at VOICES this past summer and worked very closely with Associate Dean of Students Amy Badal to organize the memorial.
The Week of Community Service activities started on Tuesday, giving students the option of helping with an after-school program at the Donald Hieter Community Center from 3 to 7 p.m.; harvesting vegetables at the Dreamcatcher Farm in Lewisburg from 5 to 7 p.m. on Wednesday; and assisting with clean up and gardening duties at the William Cameron Engine Company (the volunteer fire department of Lewisburg) from 5 to 7 p.m. on Thursday. Also on Thursday, students wrote letters and thank-you cards to overseas service men and women in Walls Lounge in the Elaine Langone Center.
Students were excited to participate in the community service activities.
"I think the Week of Community Service is a great way to become involved with the Lewisburg community as well as pay homage to all those affected by the 9/11 attacks," Alison Nahra '12 said.
Local business owners were also pleased with the students' enthusiasm.
"I think [community service] is great. It's an important part of the University's educations. I absolutely love the students and it's wonderful when they come out into the community," said Joe Detelj, owner of the Lewisburg Dreamcatcher Farm. He and his wife Jackie provided ice cream to all volunteers on Wednesday.
"My fraternity chapter's community service chair told us about the opportunities for helping out this week," Andrew Rath '11 said. "It's great to contribute to a sustainable mode of agriculture."
Some members of the community think that community service should not be reserved for commemorating times of tragedy.
"Community service is important all the time, not just now. Sept. 11 is becoming politicized and it's leading in a dangerous direction," Detelj said.
Whether or not they agree, student volunteers have high hopes for the future.
"We are planning a very large event for the tenth anniversary next year. I really hope that Bucknell continues to remember Sept. 11 each year because it is extremely important not to forget to honor the victims as time passes. I hope that with the tenth anniversary approaching next year, the campus as a whole will honor the lives lost by dedicating our time and efforts in remembrance," Catalano said.
(Visited 109 times, 1 visits today)