Construction begins on Academic West campus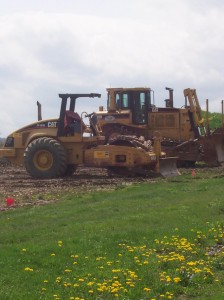 By Nicole Briggs
Writer
Behind the water tower is the makings of a new quad and living area that will expand the University's grounds.
Heavy equipment was moved in this week to prepare for development of the 50 acres of farmland the University purchased in 2003 behind Fraternity Road. The construction will add four apartment-style buildings, similar to the Gateways, in the field behind the water tower. Also, the new Kappa Delta Rho (KDR) and Lambda Chi Alpha houses will be built so that a new academic quad can be built where they now stand. The new quad will feature a building called Academic West, which will house both classrooms and faculty offices for the social sciences.
"At the moment, contracts have been formally awarded and the contractors are beginning to proves the paperwork that is necessary before actual on-site construction begins," said Jim Hostetler, Director of Construction and Design.
Construction for the new KDR and Lambda Chi Alpha houses is scheduled to begin on June 1.
"Academic West is the number-one priority building," Provost Mick Smyer said. "Over the last eight years we have added 60 new faculty but added no new academic space."
This has led to cramped classrooms and makeshift faculty offices. Academic West has come to be called an "enabling building," which will spark a series of changes within campus organization.
"The construction of Academic West will have a cascading effect where it opens up lots of other spaces for either their original purpose or something new," said Tom Evelyn, Senior Director of News and Media Relations.
With this construction, the main quad can be designated for humanities, the new quad for social sciences, and the engineering quad for natural sciences and mathematics.
This summer, construction will be done on South Campus Drive, a road that will loop around behind where the new dorms will be built, connecting to both parking and the current roads. The ultimate goal is to close the interior campus roads to cars altogether by making some changes to parking.
"We want to make the campus more pedestrian-friendly and accessible," said Dennis Hawley, Associate Vice-President for Facilities.
The new dorms will feature 350 beds in apartment-style housing, targeted towards the seniors. There will also be a common room building featuring study rooms, a café and much more. The goal is to have about 200 to 250 people move back from downtown houses and to redistribute about 100.
The construction will cause as little disruption as possible, with most of the construction going on both over the summer and in the field behind campus where no students currently live.
A word of caution to all of the students, though: "Construction can be dangerous," Hawley said. "People need to respect that."
A date will be set for the construction of Academic West once fundraising for the building is complete.
[Editor's Note: The print version of this article incorrectly identified Lambda Chi Alpha fraternity as "Lamda Chi Delta." The Bucknellian apologizes for this error.]

(Visited 155 times, 1 visits today)