Yorke's record performance sends men's lacrosse past Marist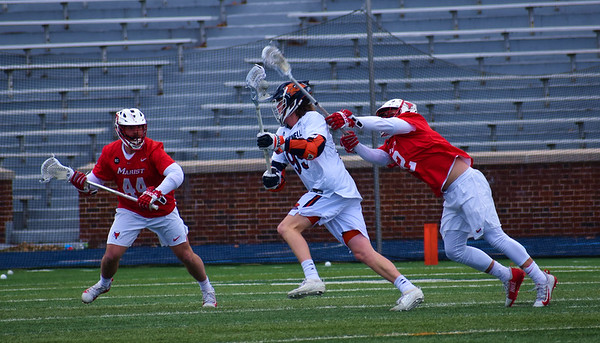 The Bison men's lacrosse team faced the Marist Red Foxes this past Saturday, Feb. 29. The Orange and Blue secured a 20-11 victory.
Bison attacker Will Yorke '20 led the team with a school-record of nine goals and tied the record for total points with 11. Yorke's nine-goal performance is also tied with the Patriot League record for goals in a single game, previously set by Navy attacker Dave Little in 2017. Yorke scored his record-breaking goal with 5:21 left in the game, and now has notched 25 goals this season. Yorke also added two ground balls and two caused turnovers to top off his performance.
Attacker Alston Tarry '22 recorded a strong performance, posting three goals and three assists. Midfielder Sumner Brumbaugh '21 made significant contributions as well, adding two goals and three assists of his own. Midfielder Matt Fedorjaka '20 logged four assists on the day.
Midfielder Hunter Newman '20 led the Bison defensive effort, with two caused turnovers and nine ground balls. Defenders Travis Talarico '22 and Bryant Boswell '21 provided support as well, each with three caused turnovers. Talarico also added five ground balls. Goalkeeper Ben Clark '21 made nine saves to help keep the Bison solid defensively.
Faceoff specialist Nick Crovatto '22 went 13 for 30 in the faceoff, in addition to tying the team-high of five collected ground balls.
The Orange and Blue netted six goals in a row at the end of the second quarter, giving them a 12-3 lead heading into halftime. The Red Foxes bounced back scoring four consecutive goals at the outset of the second half, but the Bison responded with four unanswered goals of their own. This gave the Orange and Blue a 10-goal lead, from which the Red Foxes were unable to recover.
The Bison's 20-goal performance is the highest this season, topping their previous 16 against both Furman and Binghamton. Attackers Tommy Sopko '21 and Brett Hobbs '22 posted goals for the Orange and Blue, as well as midfielders Nick Clarke '21, Harry Wellford '23 and Grayson Burns '20.
The Orange and Blue earned advantages in shots (56-35), shots on goal (33-20) and ground balls (41-33) that led them to the win.
The Bison are now 5-1 on the season. The Orange and Blue open up Patriot League play on Saturday, March 7 at 1 p.m. at Boston University.
(Visited 372 times, 1 visits today)