Athlete of the Week: Lisa Zoch '23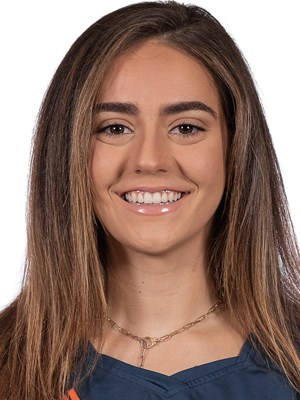 After having their season end early last spring due to the spread of COVID-19, the Bison Volleyball team is ready to prove themselves this fall 2021 season. Lisa Zoch '23 has had a large role on the team since her freshman year. She has played in every match that the team has competed in since her arrival. The junior is an outside hitter from Columbia, Md., and lead the team this past season both in kills (63) and in points (72). 
Thus far in the fall 2021 season, Zoch has proved herself a top player by making the All-Tournament team at the Delaware State Invitational that took place on Aug. 27 and 28. The team went 2-1, defeating opponents St. Francis Brooklyn and Saint Peter's, as well as falling to Delaware State. In the season opener against the Terriers, Zoch posted a career high 21 kills and a .415 hitting percentage, leading the team. In the match against the Hornets, Zoch also led the team in kills (13) and digs (12). For her efforts at the invitational, Zoch earned herself Bison Athlete of the Week. 
"This weekend was a great start to our upcoming season. We got to use some of the systems we've been working on in practice in a game-like scenario, as well as compete against new offenses," Zoch said of her successful weekend.
The Bison and Zoch were put to the test the following weekend, Sept. 3 and 4, at the Penn Invitational. They had matches against the University of Pennsylvania, Canisius College and Coppin State University. The team went 1-2 with the win against Canisius, and Zoch proved herself a very valuable player once again. In both the loss to Penn and the win against Canisius, Zoch led the team in various categories. Her leading stats were 7 kills and 2 aces against the Quakers, and 15 kills, an ace and 4 blocks against the Griffins.
This upcoming weekend, Sept. 10 and 11, the Orange and Blue will compete in their final invitational before league play, the Cornell Invitational. Zoch has high hopes for both herself and her team. "Coming back from COVID, being allowed back on campus for preseason, as well as being able to have consistent team lifts and practices, has brought our team a lot closer this semester. The chemistry and energy on the court has been great, and I can't wait to see what we'll accomplish as we continue to work hard in the gym and grow together."
Career Stats:
37 matches played
130 sets played
276 kills
318 digs
32 assists
36 block assists 
(Visited 122 times, 1 visits today)