Athlete of the Week: Anna Lajos '25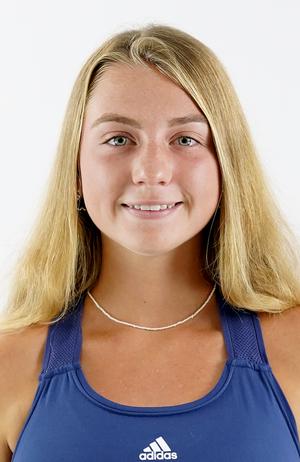 In dramatic fashion, Anna Lajos '25 pulled out a 6-4 win in the third set to clinch a 4-3 victory for Bucknell Women's Tennis over Lehigh Saturday afternoon. 
Lajos played at No. 2 singles spot, forced an extra frame after dropping the first set and then won 6-4 in the third to secure the win. Her opponent entered the match as Lehigh's leader in singles wins, and the victory was Lajos' 15th singles win of the season, which currently leads the team. 
This was a key victory for the Bison, as they are gearing up for Patriot League Championships in the upcoming weeks. Especially with it being so late in the season, Lajos recognized the importance of this weekend and attributed the win to her focus throughout the match. 
"It was initially a tough mental adjustment because my opponent played a very different style than I was used to," Lajos said. "At first, I was trying to play her game during the first set, and I quickly found myself mentally frustrated. Then I sat during the changeover between sets and told myself I had to go for it and play my game. I started playing my own aggressive style and that was really what allowed for me to come back. The feeling of winning such a hard match is unmatched, and having the support of my teammates cheering meant everything." 
The Orange and Blue are an extremely talented young group, as they have no graduating seniors on their roster. This has made the entire group to step up as leaders and grow together, which has also caused the team camaraderie to skyrocket. 
"Being part of this team has honestly been life changing," Lajos said. "I think we have such a strong team dynamic and culture, and it definitely improves our performances on the court. To know that all of my teammates have my back is everything. When every girl on the team who isn't playing is screaming for you, it really makes you play even harder because you aren't just playing for yourself at that point. Having that support system and encouragement is so crucial to our success as a whole. This team is special and I'm so grateful to be a part of it." 
Lajos and the Bison look to keep the momentum going as they have three matches left in the regular season, including a huge weekend with matches against Army and Colgate.
(Visited 27 times, 1 visits today)