Women's XC wins tri-meet
By Eric Brod
Senior Writer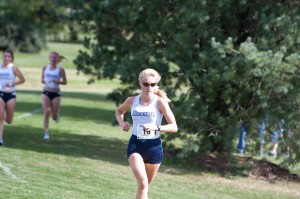 The women's cross country team earned its second consecutive victory to open the season, and the men's team finished second when the Bison traveled to western Pennsylvania on Saturday for a tri-meet at Duquesne University against Duquesne and Pittsburgh.
The women completed the five–kilometer course with 18 points, while Duquesne finished with 40 and Pitt with 84. Stephanie Fulmer '12 won her second consecutive race in 18:00, closely followed by teammate Sarah Moniz '11 who finished second in 18:08.
"We had one of our hardest workouts last week," Moniz said. "The workout last week helped to mentally prepare us all for the fast downhill mile at Schenley Park."
Alysha Hooper '12 (fourth overall), Kelly Grosskurth '12 (fifth overall) and Alaina Chodoff '11 (sixth overall) rounded out the scoring for the Bison, who placed all their scorers in the top 10.
The men finished second in their meet with 54 points, 36 points below first-place Duquesne, who totaled 18 points. Keith Sansone '12 led the pack for the Bison, finishing eighth overall on the eight–kilometer course in 25:53.
"After going fast with the lead pack I just tried to hold on as long as possible and it ended up working out," Sansone said. "The tempo of the race both helped and hurt me, I think. It allowed me to go out and run a fast time but because we went out so fast, at least for my liking, I ran out of steam late in the race and was unable to catch anyone late in the race."
Chris Sacks '14 finished ninth in 25:57. Evan Novakowski '11 (10th overall), Robert Yamnicky '13 ( 15th overall) and Christopher Boyd '11 (16th overall), rounded out the top five for the team.
Both teams return to action on Oct. 1 to compete in the Paul Short Invitational at Lehigh University in Bethlehem, Pa. Sansone knows it will be important for the pack to stay together in such a large race.
"When we go to Paul Short and run on its flat course I really think we can accomplish great things as long as we work as a team instead of just individual runners," he said.
(Visited 69 times, 1 visits today)