Bison rowing dominates spring & summer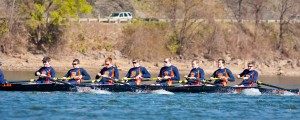 Thomas Walter
Staff writer
Both the men's and women's rowing programs finished the spring season and entered the summer with a very successful couple of months.
For the seventh consecutive year, the Orange and Blue's women rowers won the Patriot League Championship. Head coach Stephen Kish noted that a key to winning was the team's training regimen.
"The championship is always exciting. It's always a challenge and a question to see where we stand. We've established a history of success now, but our training is about more than pushing ourselves to be better than our fellow competitors. We train to be better than ourselves, day in and day out," Kish said.
In many ways, winning the team championship at the Dad Vail Regatta was even more impressive than their Patriot League success.
"Dad Vail is one of the biggest regattas in the country and we won total girls team points. It was very exciting for us as a team to win total points," Allyson Rivard '14 said.
The men's rowing team also had strong finishes at both the Eastern College Athletics Conference (ECAC) Championship and the American Collegiate Rowing Association (ACRA) Club National Championship Regatta. At the ECAC Championship, the Varsity Eight finished sixth overall while the second Varsity Eight placed second for the silver in their event. Next, the men's crew team headed to ACRA Club National Championship Regatta on May 26. They won silver in the Varsity Eight final, while setting a new 8+ record time for the Bison. Head coach Al Monte was pleased that the team's hard work showed when it mattered most.
"We set out to have our fastest race possible and leave it all out on the race course–to realize our potential when it mattered the most, and I believe we accomplished that goal," Monte said.
Connor Corwen '14 also notes that this year has the potential to be another great season.
"I am very excited to see how this year pans out. It looks very promising as we have had many freshman walk on to the team that might be able to contribute right away. After last season, I know there will be no boundaries to our rate of success," Corwen said.
The men's and women's squads look to build off their recent accomplishments and continue their success this coming season.
(Visited 197 times, 1 visits today)