Athlete of the Week: Jesse Klug '16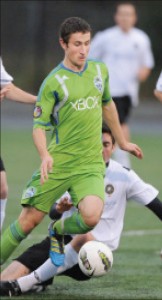 Alex Wagner
Sports editor
Player profile
Jesse Klug
First-year
Sammamish, Wash.
Undeclared
Season stats:
Two starts in two games, 152 minutes of playing time
1 goal from 3 shot attempts
Although the men's soccer team has not necessarily gotten off to the hot start it was hoping for, there is plenty of reason to look forward to the rest of the team's campaign. One of those reasons is Jesse Klug '15, who has made an immediate impact for the Bison. Just 18 minutes into his first collegiate game, the season opener against VCU, Klug scored off of a free kick delivered by Collin Costello '13, giving the Orange and Blue a lead they held for much of the game.
Klug's off-season preparations clearly prepared him to be effective at a new level of competition. This summer, he played for a U16 Academy team in Seattle, and participated in a camp geared towards improving college soccer players.
"I've never played with a group that works this hard for one another, so I hope to help the team be successful, and that [goal] just gave me confidence that I will be able to make an impact for the team going forward," Klug said.
In addition to Klug, the Bison have already seen significant contributions made by other newcomers, including goalie Mike Lansing '16 and midfielder Chris Thorsheim '16. The team will look to build off of these early successes as they continue the season.
(Visited 54 times, 1 visits today)