Beyond the Bison: Sports News Across the Nation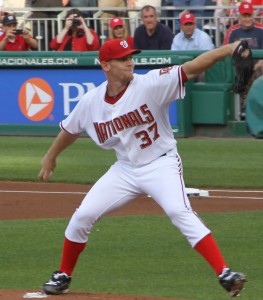 Julian Dorey
Writer
Major League Baseball's National League-leading Washington Nationals have made it official: Stephen Strasburg, their ace pitcher, will be shut down following his Sept. 12 start.
What?
Has anyone ever heard of a contending team, let alone a team with the best record in the league, pulling the plug on their best player's season right when the playoffs are set to begin?
This is madness.
Strasburg is a strikeout machine who has helped the young Nationals make a monumental climb in the standings after years of living in the cellar. Strasburg, the number one overall pick in the 2009 MLB draft, exploded onto the Major League scene during his rookie year in 2010, but tore elbow ligaments before finishing his initial campaign. As a result, he had to get the infamous Tommy John surgery that sidelined him for a year.
Before this season began, the Nationals were adamant about holding him to a count of around 160 innings pitched because of his medical issue. They maintained that his season would end once he reached that point.
Strasburg has reported no discomfort in his elbow this season. He has pitched very well, his innings pitched per start have been held below six and his team is in the thick of a heated pennant race.
Considering all of that, you would think that maybe the Nationals would stop playing the over-cautious, doctor-parent role and reevaluate the situation. Nope.
Manager Davey Johnson and General Manager Mike Rizzo have repeatedly insulted the intelligence of baseball's fans by claiming that Strasburg needs to be shut down due to the best interests of the team's future. Moreover, they believe if they don't end his season when he reaches the limit, his elbow could give out.
Yeah, okay.
First of all, what does innings pitched have to do with anything? Last I checked, pitchers who throw five innings with 110 pitches labor more than those who throw the nine inning, 90-pitch gems.
Secondly, what does that say to the rest of the team? There is a club house of 40-some odd guys who have worked their tails off all year to put the Nationals in a position to possibly win a World Series. Apparently, Johnson and Rizzo have no problems whatsoever telling these guys that all of their work doesn't matter because the team can't afford to risk the future.
Stop it.
You know who waits around for the future? People who don't have anything. When a businessman has a chance to get promoted, he doesn't turn it down because he thinks the opportunity will come again when he's more prepared. Instead, he pounces on it and makes everything he can of the chance.
This travesty isn't just an insult to Strasburg's teammates. It's an insult to the team's fans who finance the entire operation by showing up to games. It's an insult to other teams in the league due to the Nationals' sheer disregard for the unwritten rules of competition and it's an insult to the game itself for all of the previous reasons combined.
Hey Mike and Davey: man up. Stop making yourselves believe the lies you're spewing out every day. Everyone and their mother knows neither of you are doctors.
Protect the integrity of the game that has been shattered far too many times in the last decade. Let him play.
(Visited 64 times, 1 visits today)