Women's tennis strong at Mount St. Mary's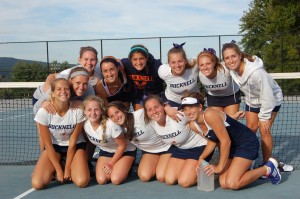 Alex Wagner
Sports Editor
Maria Cioffi '16 continued her successful campaign last weekend, coming out on top of the singles and doubles brackets while competing with the women's tennis team at the Mount St. Mary's Invitational in Emmitsburg, Md.
To get to the finals of the Flight A singles bracket, Cioffi fought hard to defeat Loyola's Megan Hahn 6-2, 3-6, 10-6 on a super tiebreak in the semifinals. In the final game, she defeated Elena Vidrascu '14, who is also her doubles partner, 6-3, 6-2.
In the doubles field, Cioffi and Vidrascu won against Megan Hahn and Olivia Ott of Loyola in the semifinals. In the finals, they defeated their teammates Lydia Colvin '15 and Alyssa McAndrew '15 in the final, 8-6.
The weekend's action marked the second time in two tournaments that Cioffi has reached the finals in both singles and doubles play, marking a great start to her collegiate career. Vidrascu also added on the accolades to her career for the Orange and Blue, improving her career doubles record to 31-32, which ranks her 22nd in all-time for the Bison, a standing she also has for career combined wins.
"As for the team, I think everyone did excellent this weekend and it was a huge improvement from our home tournament last weekend. Everyone played smartly from what I could see, and there are definitely some things to be worked on but it's only going to get better and better from here," Vidrascu said.
In addition to placing the two teams of Cioffi/Vidrascu and Colvin/McAndrew, the Bison also placed a third team in the finals when Ellie Fraser '16 and Kristen Bishof '15 reached the Flight B doubles bracket finals. Unfortunately, they were unable to win against Carly Landini and Liz Rossi of Mount St. Mary's in that match.
The Bison will be back in action when they host the Bucknell Invitational on Sept. 21-23.
(Visited 895 times, 1 visits today)