Bison Athlete of the Week: Mayowa Alli '14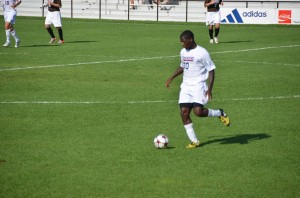 Alex Wagner
Sports Editor
Player Profile
Mayowa Alli '14
Lanham, Md.
Political Science
Season stats:
Six starts in seven games
522 minutes played
Two goals
One assist
Mayowa Alli '14 and the men's soccer team enjoyed a great weekend in the Class of '98 Invitational, which they co-hosted with Penn State. They defeated Adelphi and Albany by a combined score of 11-0 to win the tournament. Alli, who starts in the center of the defense, anchored a unit that only allowed three shots on target all weekend, none of which resulted in goals. His strong defensive presence earned him the title of Patriot League Brine Defensive Player of the Week.
But Alli's contributions to the Orange and Blue extend beyond simply just shutting down other teams' offenses. He is a strong attacking threat himself, as proven last weekend. In the game against Adelphi, he picked up an assist after Jonathan Grad '15 headed in his long throw-in, which has come to be a special weapon for the Bison. Alli became an even bigger part of the attack against Albany, when he scored the game's first two goals, both off of headers.
"I think we were so successful this past weekend due to the fact that we were excited to finally play at home, and the entire team's contribution to each game. The fan support was great; we honestly fed off the crowd's energy. And our depth off the bench was awesome. Every single guy was given a chance to play and made the best of their opportunity," Alli said.
Last season, Alli scored seven goals and earned First Team All-Patriot League honors and Second Team All-Mid-Atlantic Region. His performance last weekend is certainly an indicator that there are more great things to come from him this season.
(Visited 159 times, 1 visits today)