Women's tennis solid at home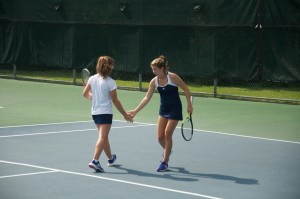 Ajan Caneda
Copy Editor
At the Bucknell Invitational last weekend, the women's tennis team had a solid tournament, taking home the singles crown, the first tournament title of the season for Elena Vidrascu '14, while Jen Bush '15 and Stephanie Pino '16 were runners-up in the doubles final. Colgate, Mount St. Mary's, Villanova and Bloomsburg joined the Orange and Blue in the three-day tournament.
"This was with no doubt the best tournament weekend I've had since coming to Bucknell. I played my usual game this weekend, but the key to my success was that I played the sort of game that my opponents don't like," Vidrascu said.
On the first day of action, five Bison players won their first round singles matches, including Lydia Colvin '15 who defeated Aida Diop from Bloomsburg, 6-1, 6-1, and Maria Cioffi '16 who won, 6-2, 6-2, against Bloomsburg's Michelle Perez. Vidrascu, Bush and Pino also picked up first-round victories.
In doubles action, Colvin and Alyssa McAndrew '15 lost a hard-fought match against Tori Smyth and Allison Kruse from Villanova (8-6), while Bush and Pino dominated Colgate's Alex Petrini and Jennifer Ho 8-1. The Orange and Blue also picked up consolation victories as Christie Schneider '15 and Elizabeth Morgan '14 defeated Bison teammates Claudia Silvers '15 and Sam Madnick '16 8-4, while Cioffi and Vidrascu beat a Bloomsburg pair 8-3.
The Orange and Blue continued their success on the second day of the tournament, as Vidrascu and Cioffi moved on to the singles semifinals. Vidrascu was successful in her semi-final match, defeating Mikelle Mancini of Villanova 6-3, 6-2. Unfortunately, Cioffi lost to Villanova's Tori Smyth 6-2, 6-0.
Bush and Pino advanced to the doubles final with a win over Mount St. Mary's Carly Landini and Liz Rossi (8-4).
"This was only the second time Jen [Bush] and I have played doubles together and I feel that with each match we are playing better as a doubles team. Our style of play suits each other and we work well together on the court," Pino said.
On the final day of the tournament, the Orange and Blue appeared in both finals and consolation matches. After dropping the first set 6-1, Vidrascu bounced back to win the second set 6-4 and the eventual tiebreaker 10-8, as she secured the singles title. She and Cioffi also picked up a doubles win against teammates Morgan and Schneider.
"In my final match of the tournament, I lost the first set 6-1 pretty quickly. I remembered how I played against the previous two girls in the tournament and started to do the exact same thing, and it worked," Visdrascu said. "This win has boosted my confidence tremendously, because I have finally realized the game that I need to play against all types of players."
The Bison look to continue their strong play as they travel to Philadelphia for the Saint Joseph's Invitational this weekend.
"Going into the St. Joe's tournament this coming weekend I will focus on playing well, going for my shots and working on strategy and play," Pino said.
(Visited 219 times, 1 visits today)