Bison Athlete of the Week: Elena Vidrascu '14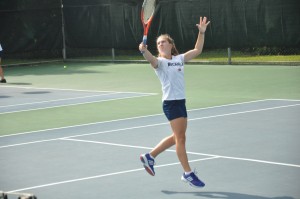 Alex Wagner
Sports Editor
Player Profile
Elena Vidrascu '14
Rochester, N.Y.
Neuroscience
Career stats
Singles record: 35-29
Doubles record: 34-33
Total: 69-62
Win percentage: 0.527
Elena Vidrascu '14 defended her home courts last weekend in the Bison Invitational, as she won the Flight A singles championship and the doubles backdraw with partner Maria Cioffi '16. The singles victory marks her first title of the season.
On Saturday, she easily defeated Mount St. Mary's Kelly Conroy 6-3, 6-2 in the second round and moved past Villanova's Mikelle Mancini by the same score in the semifinal.  The final proved to be much more of a challenge, however, as Vidrascu had to come back after dropping the first set 6-1 to Tori Smyth of Villanova.  She won the second set 6-4 and the super tiebreaker 10-8 to come out on top.
"Being focused and patient is key, as well as the will to battle out a match no matter how many shots need to be hit or the variety of shots that has to be implemented," Vidrascu said.
Vidrascu also found success on Sunday in the doubles backdraw final when she and partner Cioffi beat teammates Elizabeth Morgan '14 and Christie Schneider '15, 8-0.
"You definitely need to have a good relationship with your partner, and I think we connect more and more each time we play. It helps to have some fun on the court to keep things relaxed, and I love her humor. I'm really excited to see how well we can do for the rest of the season," Vidrascu said.
(Visited 177 times, 1 visits today)