Tennis duos shine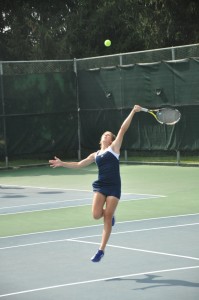 Alex Wagner
Sports Editor
Men's tennis teammates Chris Tortora '14 and Jonathan DeFrancesch '15 and women's tennis teammates Maria Cioffi '16 and Elena Vidrascu '14 saw success in doubles and singles play in the Lehigh Invitational last weekend.
Tortora and DeFrancesch together accounted for seven of the team's 15 wins over the weekend after each went 2-0 in singles play as well as combining for a 3-0 doubles record, including a highly-contested 9-7 win over Lehigh.
"This was the second tournament that Johnny [DeFrancesch] and I have played together in, and we keep making strides in improvement," Tortora said. "Johnny is an energetic player and that really helped me get my blood flowing. We beat our opponents more so because of our high levels of intensity than anything else."
Evan Zimmer '13 also had a good weekend as his 1-1 singles record and 2-1 doubles record with partner Josh Katten '13 moved him up three spots to fourth place on the Bison's all-time win list. He is now 119-63 in his career with the Orange and Blue.
"This weekend went very well for not only me, but the team as a whole," Tortora said.  "We got to match up our lineup versus some quality opponents and we fared very well. I was able to be effective with my serve and I stayed mentally tough throughout all of my matches."
On the women's side, Cioffi and Vidrascu had similar success as a duo and as singles. They went 2-1 in doubles after two tight 9-8 wins against Lehigh opponents. They are now 10-3 together on the season. Cioffi also went 2-0 in singles with defeats of Delaware and Lehigh.
Although Vidrascu was unable to get a win in singles, her doubles success moved her up to a tie for 18th place on the Bison's career wins list, as her record is now 38-35.
Jen Bush '15, Christie Schneider '15 and Stephanie Pino '16 were also able to contribute to the Orange and Blue's success as they each earned a singles victory against Lehigh.
The men's team will be back in action from Oct. 18-22 as Zimmer, Katten and Kelly Morque '13 head to Charlottesville, Va. for the ITA Regional Championships. The women's team will not be competing until the start of dual play on Feb. 2.
(Visited 126 times, 1 visits today)