Beyond the Bison: Sports News Across the Nation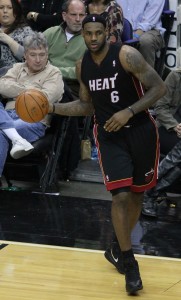 Julian Dorey
Writer
This NBA season may be the most important one in LeBron James' career.
Last year, the King finally got his ring after a tiresome, impactful, controversial, trend-setting nine-year quest. The championship definitely provided him with some peace of mind and some long-lost self-assurance.
What it didn't do for him is silence his greatest detractors.
James has one ring. Not two, not three, not four or five, but one. His physicality, ridiculous career numbers and three MVP's to this point in his career do not put him in Michael Jordan's company because his bling collection has only brought in its first item. At age 27 going on 28, he has plenty of time. After all, Jordan was 28 when he got his first. By the sheer wits of father time, James is right on track.
But once Jordan got one, he followed it up with two more in a row. After leaving the NBA for a short time in the mid-90s following his father's death, Jordan came back and went on to another three-peat.
The moral of the story? James may need to start ripping off championships like Stephen A. Smith rips off stats from a box score if he ever wants to catch the greatest player to ever pick up a ball.
If James truly intends to hold himself to the standard of being the greatest player to ever play the game, as he told the AP last week, this season could be the most critical one of his entire career. Once James and the Heat can prove to themselves that they have the ability to reel off a couple titles in a row, there's no telling how much their confidence and aspirations could collectively soar. They would enter next season with a real opportunity to establish a dynasty, and to be one of the greatest teams to ever play together.
Perhaps the Heat can be the NBA's first true dynasty since the Spurs and Lakers earlier in this century. With Dwyane Wade healthy heading into this season and Chris Bosh finally sure of himself and his role as the third wheel on the team, there's no telling how much better the Heat can get and how many more rings they can collect.
There's just one problem: this is not Jordan's NBA.
When Jordan began his meteoric rise to the top of basketball's Mount Rushmore, certain things fell into place. Magic Johnson and Larry Bird were on the wrong side of 30 and their star-powered teams were shells of what they used to be. Some of Isiah Thomas' key sidekicks on the infamous "Bad Boys" team in Detroit (Dumars, Laimbeer, Mahorn, Aguirre) were getting old. Great players like Patrick Ewing, Charles Barkley and David Robinson did not have the sheer scoring ability that Jordan did, and also did not have the sidekicks he did. In other words, Jordan entered his prime right as the rest of the NBA entered a transitional period that would see the style of the game change. When Jordan already had three titles under his belt, came back to the NBA and began his quest for more, the only real threat to his Bulls were the Utah Jazz who bowed to "his Airness" in the 1997 and 1998 NBA Finals.
To be clear, none of that is to say that Jordan had it easy, or that he doesn't deserve every one of the accolades he has received as a player. Jordan is arguably the most clutch player of all time and his accomplishments speak for themselves. However, with all of those listed factors in mind, consider what James has to deal with as he begins his mission to collect more trophies.
Kevin Durant and Russell Westbrook in Oklahoma City. Kobe, Dwight Howard, Steve Nash and Pau Gasol in Los Angeles. Chris Paul, Blake Griffin and a rising young roster representing the lesser-advertised team in Los Angeles. The Brooklyn Nets and Russian owner Mikhail Prokhorov's continued willingness to throw money at talent to build a champion. Even a young team in the Philadelphia 76ers has rising talent to possibly make them a force in years to come.
The point?
James has tough company. The NBA has evolved into a league of "super-teams." Organizations feel that the only way they can compete is if they load up on franchise players. It started with James' move to South Beach in 2010.
Now, as James enters the most important season of his career, a season that needs to end with another parade in Miami, he has to navigate past talented teams that he, albeit indirectly, created.
He could go down as the greatest of all-time, but he's going to have to play at unprecedented levels to do so if the biggest measurement stick is Jordan's six, levels that would eclipse Jordan's playoff performances throughout the years.
(Visited 74 times, 1 visits today)