Women's track places second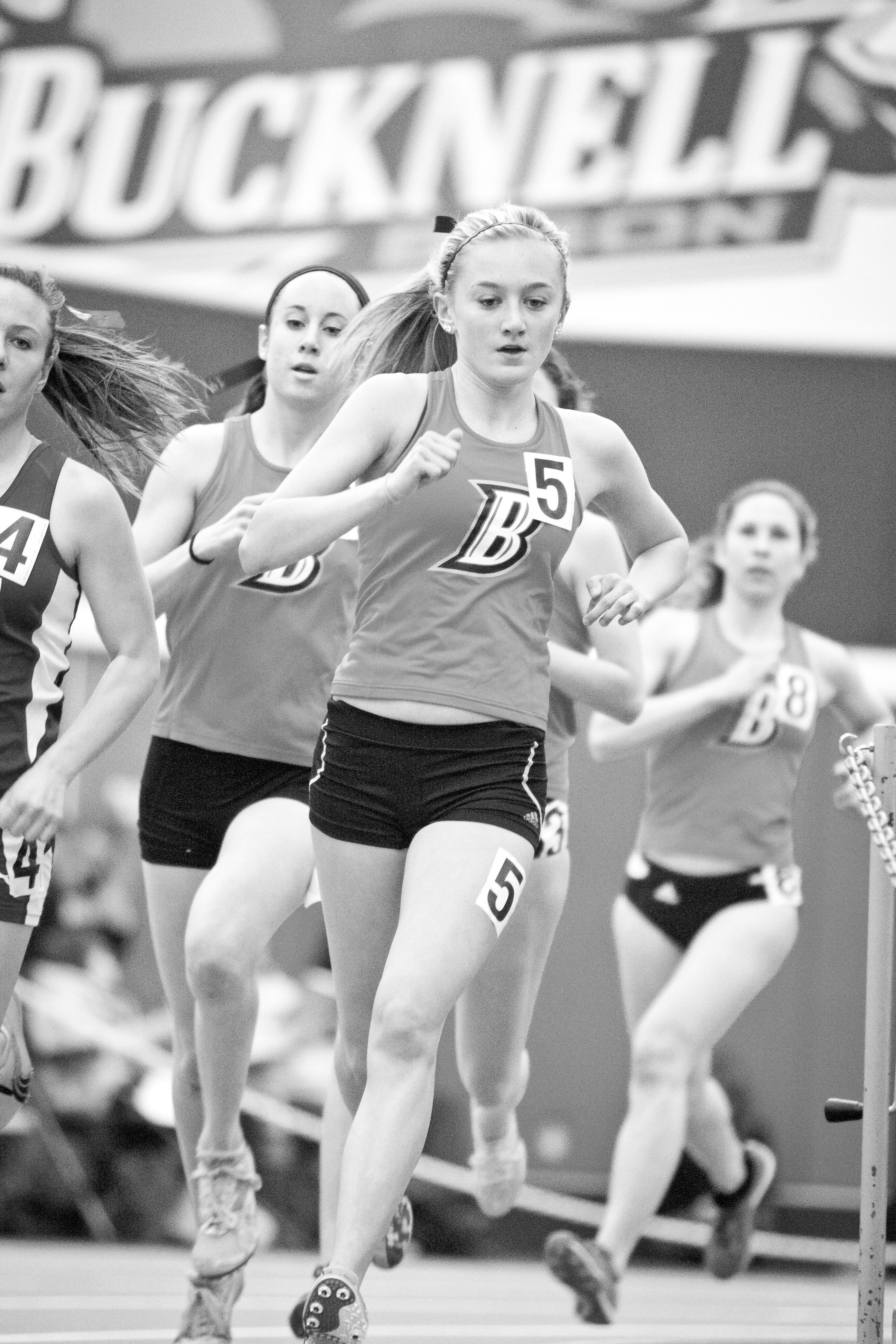 Lauren Boone
Writer
Caroline Tolli '13 captured two victories to help the Orange and Blue claim second place at the Gulden Invitational on Jan. 19, which was the first scored competition of the season at the Gerhard Fieldhouse.
Tolli stole first place in both the mile and 1,000 meter events, with times of 5:00.25 and 2:58.12, respectively.
Olivia Massey '13 cleared 18′ 6.5" in the long jump, taking the sixth spot in Bison athletic history. Massey was not ranked prior to the event.
"I was very pleased. I am fighting off a hamstring injury and this is my first meet of my senior year so I wasn't quite sure what to expect at the Gulden Invitational. Luckily, many things came together for me and I was able to put forth a pretty good long jump series," Massey said.
In addition to Tolli's wins, the Bison collected a number of second and third place finishes. Abby Monaghan '13 took third in the weight throw event with 52-06.00. Also claiming third was Emily Ando '14 in the pole vault event, matching her career-best of 11′ 9.75". Jennifer Zymet '14 finished within the top two spots in all of her races. In the 800 meter event, Hana Casalnova '14 finished second, with teammate Beth Braunegg '14 following close behind in third. Montana DiPietrantonio '15 was the runner-up in the 5,000 meter event with 17:55.13. In the 4×400 and 4×800 relay, the Bison had two second place finishes.
Collectively, the Orange and Blue earned a total of 139.5 points. For the second year in a row, the Bison took second place behind Duquesne, which claimed first with 177 points. Third place Lafayette trailed far behind the Bison, with a total of 58 points.
"We were really happy about this weekend's performance. After pre-semester training, the team was ready to see how our hard work would pay off in competition. Competing against Duquesne and other strong schools like Ship helped bring out great performances within the team and develop our competitiveness and team unity. We are looking forward to some more strong competition the next few weeks as the season really gets rolling," Tolli said.
The Bison will be back on the track on Jan. 25-26 at the Bison Open & Multi and the Penn State National Invitational.
(Visited 77 times, 1 visits today)