Up-and-coming Marianne Solivan wows full audience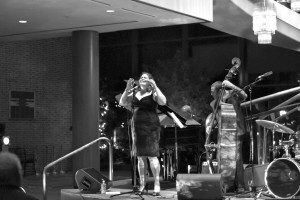 Marianne Solivan performs for full lobby
By Laura Crowley
As part of the 2013 Janet Weis Jazz Series, Marianne Solivan and her quartet performed on Feb. 20 for a full audience in the lobby of the Weis Center for the Performing Arts. Solivan joined the mainstream jazz scene in New York when she was a finalist in the Jazzmobile Vocal Competition in 2009 and debuted "Prisoner of Love." This song received Four Stars in the Sept. 2012 issue Downbeat Magazine. Solivan wasn't always committed to jazz, as she went into Berklee College of Music for singing pop music. She only made the switch when she realized that she enjoyed or, in her own words, "dug" jazz.
After graduating from Berklee with a degree in Music Performance and Education, she attended The Boston Conservatory, where she earned a master's in Jazz Studies. After her first year at the Conservatory, Solivan took three years off when she lost her passion for music. She accredits her return to Ella Fitzgerald, who she says inspired her enormously.
"I purchased the four oddest recordings for a jazz newcomer, one of those Ella Fitzgerald songbook compilations," Solivan said. "No matter how sad the ballad, no matter how bad the break-up song, there's always a silver lining [in Fitzgerald's music]."
Solivan's performance style is similarly complex; she is able to traverse a wide range of notes and sing calmly, yet passionately. Even in the early stages of her career, Solivan has performed alongside Jeremy Pelt, Ugonna Ukegwo, Neal Minor, Roy Hargrove, Michael Kanan, Steve Lacy and Ray Gallon.
Solivan came to a member of the Weis family's attention during a performance in her native city of New York.
"It's fun to present artists who are in the early stages of their careers. We think she's an up and coming talent [and] we think she'll have a successful career," said Kathryn Maguet, executive director of the Weis Center.
This event is the second event in three-part jazz series. Assistant Professor of Music Barry Long is excited that "we are continuing a fantastic tradition bringing live jazz events to Bucknell."
The last performance will be from Tia Fuller Quartet on April 27 at 7:30 p.m. at the Campus Theatre.
(Visited 110 times, 1 visits today)