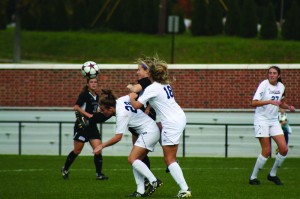 By Eric Weiss
Senior Writer
In a weekend of Patriot League play at home, the women's soccer team was defeated by Army, 2-1, and defeated Holy Cross 3-2.
Story continues below advertisement
The Bison knew they would be up for a challenge as Army took nine shots in the first half.  In the 39th minute  Christa Matlack '11 out-dueled the Army goalie and gave the Bison a 1-0 advantage. Army's staunch defense tightened and refused to give the home team any more scoring chances in the first half.
Sandita McDermott '13 helped keep the game close all night for the Bison, but with just 5:30 left in the game, the Bison were whistled for a slight push, giving Army a free kick. Army knotted the score at 1-1, sending the game into overtime.
Army then drove down the field and slipped a pass by McDermott in net, leaving the goal open for the Army striker to tap the ball in for a golden-goal win.
In the game Sunday, the  Crusader team came out on the offensive. Midway through the first half a Holy Cross attacker slipped behind the Bison defense and allowed the Holy Cross team to take an early 1-0 lead. The Bison evened the score at 1-1 with just over a minute left in the first half as Kelliann Doherty '11 took a short corner kick and bent it into the goal.
"Our team kept the pressure up against Holy Cross, we knew that even when we were down we still could defeat them," Doherty said.
In the second half the Orange and Blue did not give the Crusaders a chance to catch their breath. Tara Cort '12 came through for the Bison, burying a shot past the Holy Cross keeper. Holy Cross continued with extremely physical play throughout the match and even drew a yellow caution card midway through the second half.
Doherty put the game away in the 75th minute as she freed herself from a skirmish in front of the Holy Cross net and buried the ball in the back of the goal. Holy Cross scored just two minutes later but could not mount an attack over the last 10 minutes, and the Bison sealed the game.
"We didn't want to give Holy Cross the chance to get back into the game. Continuing to attack late in the game was what made us successful," Jules Harris '11 said.
The Bison will play their final Patriot League Conference game next Saturday against Colgate. With a win, the Bison can lockup home field advantage for the opening round game of the Patriot League Tournament. With an Army loss or tie, the Bison will be crowned Patriot League Regular Season Champions.
(Visited 55 times, 1 visits today)