Emily Guillen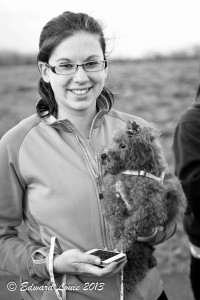 After spending eight semesters on The Bucknellian's Editorial Board, four of them as a member of the executive staff, I find myself looking back at the effect the newspaper had on my life for the last four years.
I started off with Eric Brod '13, my first "newsie" friend, as one of the paper's two lowly first-year editors. After watching the paper struggle to survive on campus during my first year, we received a breath of fresh air in the form of our new first-year editors, Allison Shook '14, Madison Lane '14, Ben Kaufman '14 and, especially, Cooper Sutton '14.
Cooper was the push I needed to get my butt in gear, take control of The Bucknellian and really push the staff to the limit. During my junior year, he inspired me to recommit myself to the paper and to give it the effort it deserved.
As Managing Editor, I worked week after week to produce the best product I could, to keep peace and happiness amongst the staff, and most importantly, to remember why The Bucknellian matters on this campus and why it will outlive us all.
It was with this determination that I took on the role of Editor-in-Chief. Throughout the summer, I had meetings with the finance office to set up a credit card payment system for subscriptions, I raised our prices with the goal of bringing us into the black for the next fiscal year, I redeveloped the website and worked to develop a mobile app.
As a senior focused on finishing my courses, working on senior design and looking for a post-graduation job, my determination waned. There were days I lacked the fire in my belly to push my writers and my editors. I leaned heavily on my own executive board, Amanda Ayers '14 and Ben. Regardless, I strove each week to come into the newsroom and give my new first-year recruits and seasoned upperclassmen the same inspiration given to me by the office, the smell of the freshly printed broadsheet and especially those Editors-in-Chief who came before me.
I reached the end of my term and was given the honor of leaving my legacy in the hands of Madison and Alex Wagner '15 as I took on the advisory role of Senior Editor. At this point I began to take a step back and find other ways to occupy my time.
When I look back on my time in college, The Bucknellian was the biggest part of my life.  It's the part of my experience that I will not only look back on fondly, but also look back on with pride–pride in a job well done, pride in the decisions I made with journalistic ethics on the line and pride in the writers, editors and leaders I helped to cultivate.
(Visited 209 times, 1 visits today)