Field hockey loses in semis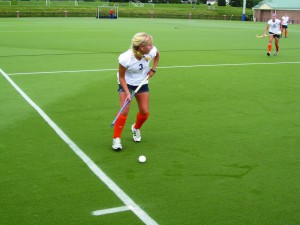 By Joyce Novacek
Writer
The Bison field hockey season came to an end Friday when the team lost to second-seeded Lafayette 3-2 in the Patriot League Tournament semi-finals in Washington, D.C. Despite the loss, Kelly Bruvik '11 and Corinne Raczek '11 were named to the Patriot League Field Hockey All-Tournament team.
About eight minutes into Friday's game, Bruvik assisted Mallory Smith '12 score her first goal of the season, giving the Bison an initial lead of 1-0. The Leopards responded two minutes later with an unassisted goal and, after deflecting a shot after a penalty corner, pulled ahead with a 2-1 lead. Bruvik tied the score for the Bison before halftime with a goal assisted by Rachel Misko '14.

Despite an evenly matched second half, the Leopards executed on a penalty corner, and that made all the difference. A score of 3-2 sent the victorious Leopards into the Patriot League Final, where they ultimately lost to the American Eagles 6-2. The Bison finished the 2010 season 7-12.
Goalkeeper Sarah Zargarpour '12 made eight saves.
"It was a hard loss to take because, as a team, we work so hard throughout the year, and then it all comes down to 70 minutes of play. For them to score with only four minutes left was really hard. Also, we really wanted to get to the finals for our seniors, as it would be the last time they would have a chance to play," Zargarpour said.
"Playing Lafayette is always a battle and unfortunately, it didn't end in our favor this time," Christine Weiss '11 said. "We played some great hockey and had some fantastic opportunities that just didn't go in."
In addition to Bruvik and Raczek receiving all-tournament team picks, five members of the Bison field hockey team made All-Patriot League teams. Bruvik and Weiss were selected for first-team and Morgan Kauffman '11, Misko and Tayler Siegrist '13 were selected for second-team.
Misko also received the Patriot League Rookie of the Year honor, and Weiss was named the Patriot League Field Hockey Scholar-Athlete of the Year.
(Visited 46 times, 1 visits today)