Football takes loss to Fordham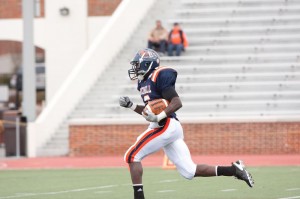 By Greg Stevenson
Senior Writer

The tough 2010 Bison football season continued this past weekend at home against the Fordham Rams. Despite another solid performance by their offense and quarterback Brandon Wesley '14, the Orange and Blue allowed 30 points for the fifth time this season, falling 33-21 to the Rams. The Bison, who stand at 1-8 overall, have just one conference win this season.
"The important thing is that the effort this team has given in all the games has been consistent and we have been able to stay healthy," Head Coach Joe Susan said. "It gives you a chance as every team is hurting this time of year."
On three consecutive possessions early in the first quarter, the Bison and Rams traded touchdowns, which resulted in a 14-7 Fordham advantage. After the Orange and Blue received the ball first and punted on their ensuing series, the Rams wasted no time driving down the field for the opening points of the contest. Fordham took just six plays to go 72 yards for the score and the 7-0 lead.
The Bison responded with a six-play scoring possession. Wesley accounted for 10 rush yards and 65 yards through the air, including 48 on a touchdown to Robert Owoyele '13 to even the score at seven.
Despite the momentum built from the offensive touchdown, another Bison special teams let-down allowed Fordham to return the kickoff deep into Orange and Blue territory. From there, the Rams scored their second touchdown of the quarter, retaking a seven-point lead.
The score remained at 14-7 until midway through the second quarter, when the Bison tied the score with a one-yard touchdown run from Tyler Smith '13. A fumble from the Rams gave the Orange and Blue possession in Fordham territory. The next play, Wesley found Smith for a 31-yard pass to put the Bison in the red zone.
The tie score, though, lasted just four plays. A big play hurt the Orange and Blue defense again, as Fordham put the ball in the endzone on a 52-yard pass. The touchdown gave the Rams a 21-14 lead.
Fordham scored twice more in the second half, pulling away from the resilient Bison squad. Wesley continued his impressive rookie campaign, passing for 228 yards and running for another 43. Smith contributed 22 rushing yards and 17 receiving yards to go along with a touchdown.
"I believe the upside Brandon has will enable him to be one of the better quarterbacks to play at Bucknell," Susan said. "He was a little off fundamentally against Fordham and sailed the ball a bit. He was effective as a runner but at times guilty of trying to make more than a play was giving him."
The Bison's home season ends this weekend against the Colgate Raiders. The Bison look for their first home victory of 2010 as the Raiders come to Christy Mathewson-Memorial Stadium tomorrow at 1 p.m.
"This game is our seniors' last home game," Susan said. "We will work to make it a special day for them."
(Visited 56 times, 1 visits today)