Athlete of the Week: Olivia Harris '20, Field Hockey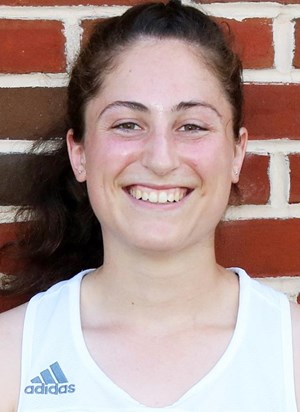 Olivia Harris '20 is a force to be reckoned with as the starting goalkeeper for the Bison field hockey team.
Harris is a prominent leader on and off the field. She has spent three seasons with the Bison and has learned that the best mentality to promote is positivity.
"Positivity is a huge part of being successful. It is very easy to get caught in the emotions of a game, but it is very difficult to remain composed in the face of adversity and problems," Harris said. "In my opinion, the key to success as an overall team unit is to not have those individual breakdowns as it only drags everyone else down on and off the field."
Harris and the rest of the field hockey team have two more games left in regular season play before they enter into the Patriot League Tournament. After the team faced some season ending injuries, Harris said the biggest challenge the Bison face is not the injuries themselves, but how the team reacts to losing players.
"We are a team that goes in waves of highs and lows in terms of consistency of play. Some weeks we are really on point and tuned in. Other weeks, all of that seems to disappear. As we head into league finals, it is critical that we go in on a high," Harris said.
"Either winning in shootouts against American last year or my penalty stroke save against them this year would be some of my favorite memories," Harris said, recalling her favorite career moments.
With tough losses to teams like American and Boston University in regular season play, Harris looks towards her past and present teammates for inspiration.
"When you play a sport at a high level for so many years, you meet friends from all over the United States and other countries. For me, what keeps me going is those games where you're playing against someone you haven't seen in over four years, is you are still friends as a result of a commonality," Harris said.
Turning towards tournament play, which begins on Nov. 2, Harris looks forward to "Earning a spot in the Patriot League finals. This is where all our sweat, blood, tears, and hard work all pays off."
STATS:
Two-time Patriot League Goalkeeper of the Week
Recorded three shutouts
Two-time member of the Patriot League Academic Honor Roll
Two-time member of the NFHCA Division I National Academic Squad
(Visited 349 times, 1 visits today)