Beyond the Bison: Sports News Across the Nation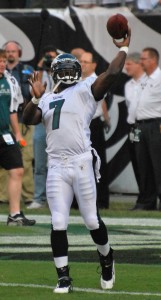 Julian Dorey
Writer
The most damning stat from the 2011 NFL regular season is 8-8.
That was the final record of the so-called "dream team"–the Philadelphia Eagles.
The dream team was as doomed as a runaway train from the very beginning. The moment an unproven squad puts the proverbial target on their back, that's usually it.
The Eagles were no exception. They stumbled out of the gate to a 1-4 record, and a couple of Michael Vick injuries and brain freeze moments later, they fell flat on their faces with an out-of-contention, 8-8 finish.
You could say this year is the "make-or-break" year for the Birds. It could be Vick's last shot to prove he can stay healthy and lead a contending team deep into January. It could be Andy Reid's disappointing curtain call after 14 years if the Eagles aren't around for the postseason. It could be DeSean Jackson's one and only chance to win back some of the "haters" he garnered in the city of brotherly love because of the many issues he carried onto the football field amidst his contract dispute last year.
It could even be a season ending with a parade down Broad Street.
A week one win over the Browns doesn't score the team anything more than a pat on the back and a "good luck next week," though. Besides, after a bumpy preseason featuring two Vick injuries and the death of Andy Reid's son, Garrett, the team looked very sloppy in victory.
For the first time in many years, Philadelphia fans don't have any idea what they have.  When this offense clicks, it's hard to find a better one in the NFL. They can beat you with speed, they can beat you deep, they can beat you on the ground and they can beat you with off-the-wall play.
But if the mental mistakes creep in like they did last year–dropped passes, tons of turnovers (something that happened once again against Cleveland), poor third down play calling, Vick's unwillingness to slide at the end of plays)–they could be just another disappointing means to an end.
The defense could be a lot better with Pro Bowl middle linebacker, DeMeco Ryans, there to sure up the middle of the field. Or, it could be much of the same if the 28-year-old Ryans truly isn't the same player after his 2010 Achilles injury. For what it's worth, he looked very comfortable against the Browns' inept offense.
This year is pretty much a mulligan for the boys in green. After failing miserably last season, no major changes occurred. In fact, quite the opposite. Reid has been given a "do-over," straight from the mouth of owner Jeffrey Lurie. Players like Trent Cole, Evan Mathis, Todd Herremans, LeSean McCoy and even Jackson were given the extensions and financial security they all clearly desired. Even Juan Castillo, former offensive line coach and now defensive coordinator, has been given second life.
That's a lot of leeway to go around, which makes this season all the more important.
The preseason already seemed to have an underlying ominous tone, as Vick couldn't even stay on the field for a quarter at a time–let alone a game at a time. It's a "live-and-die-by-the-quarterback" league, and the Eagles can't afford to have Vick out for a few games at a time. Great teams need continuity and Vick has to find a way to give his locker room that this year.
The Eagles might be equipped with the best all-around running back in football: McCoy. Despite the blow of losing All-Pro left tackle Jason Peters to an Achilles injury in the off-season, Eagles fans can expect big things out of the electrifying 24-year-old they call "Shady." However, it's DeSean "all eyes on me" Jackson who fans are really going to be judging this year.
Jackson exploded onto the scene immediately during his rookie campaign in 2008. Within a year he was a triple-threat Pro Bowler who could beat just about anyone in a footrace. Last year, he had serious problems because of his aforementioned contract dispute. As a result, his season stat line was the worst since his rookie year and his mind-blowing mental errors cost the Eagles dearly throughout the year.
Despite the negative press Jackson brought upon himself, the organization decided to believe in the usually up-beat 25-year-old and gave him a five-year, $51 million contract.  With his financial worries behind him, it's time for Jackson to light up the highlight reel like he did for the first three years of his career.
It's talent like the combination of Vick, McCoy and Jackson that makes analysts continue to show some faith in the Eagles' Super Bowl chances. But talent only takes you so far; they need to win.
The Eagles are still "on the clock," but it's time for them to nut up or shut up–because this roster will assuredly be clocked out if they can't make some serious noise this year.
(Visited 49 times, 1 visits today)