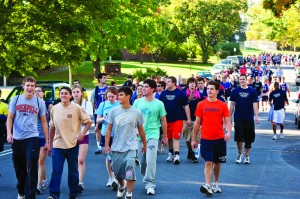 By Christina Oddo
Contributing Writer
University students and faculty, community members and guests joined together in the Kenneth Langone Athletics and Recreation Center Saturday morning to participate in the fifth annual Bucknell AIDS Walk benefiting the AIDS Resource Alliance, a local non-profit organization.
Story continues below advertisement
The AIDS Resource Alliance provides community support and education to prevent the spread of HIV/AIDS and provides assistance to those who are currently living with the disease.
The event, sponsored by the Bucknell AIDS Committee, welcomed teams and individuals to participate in the walk. Various athletic and Greek organizations registered in teams, and many individuals participated with friends and hallmates.
Before the walk began, participants heard from a client of AIDS Resource in Williamsport who is HIV-positive. The client emphasized how critical it is for citizens of a community to work together to pull those who are suffering from AIDS out of misery.
"It can happen to anybody," the client said. "Think about what you do before you act."
The walk was a wake-up call, especially for college students and other young people. Speakers like Rick reminded University students, faculty and community members who participated in the event that people who are HIV-positive are mostly young. Carriers can be symptomless for up to 10 years before they are diagnosed with AIDS.
Signs printed with reminders lined the course and emphasized the importance of such events with respect to those suffering. Rick mentioned how uplifting this event was for him and how the great energy prevalent during Saturday morning's event can really increase the hope for a better future.
"It did what it was supposed to do: portray the Bucknell community as supportive and empathetic towards AIDS," Angel Hernandez '13 said.
(Visited 55 times, 1 visits today)