Bison Athlete of the Week: Brandon Wesley '14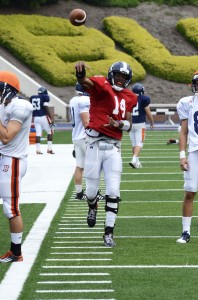 Alex Wagner
Sports Editor
Player Profile
Brandon Wesley '14
Plano, Texas
Geology
Season stats:
27 pass attempts, 20 completions
190 passing yards
Two passing touchdowns
Six rushes for 29 yards
Brandon Wesley '14 played an instrumental role in the football team's opening 19-17 victory over Marist on Sept. 8. Despite inclement weather that delayed the game for over an hour, Wesley didn't let the pressure of the quarterback position get to him.
"I did not do anything special to prepare for this game at all; I usually just try to stay pretty relaxed and calm before games. Funny thing is, I almost fell asleep before this game while we waited in the locker room because of the rain delay. That might have been a little too much relaxation," Wesley said.
It appears the relaxed approach worked, as Wesley completed 74 percent of his throws, en route to 190 passing yards. His most clutch throws came in the fourth quarter 14-play drive that culminated in the game-winning kick by Sean Cobelli '14.
"I also think a large part of my success came from the great blocking of the offensive line, who often times receive very little credit for our success as a team. Without them, we wouldn't have been in position to make that game-winning field goal in the fourth quarter," Wesley said.
Wesley and the football team will continue their 2012 campaign at Delaware tomorrow.
(Visited 63 times, 1 visits today)