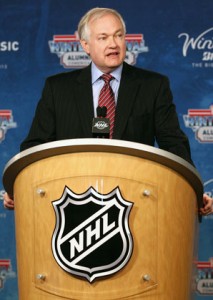 Julian Dorey
Writer
Just when you thought the National Hockey League had learned its lesson, it struck again.
After seven years of tirelessly rebuilding a sport crushed by the lockout of 2004-05, the league has decided it is necessary to walk down the potentially long lockout road once again. Last week, after a summer of ultimately meaningless talks between the league owners and the Players Association, the owners officially locked the players out.
Story continues below advertisement
Why?
When the 2004-05 lockout washed out the entire season, the NHL lost TV sponsorship deals, millions of dollars and millions of fans. It has taken game-enhancing rule changes, exciting new features (like the Winter Classic) and tireless effort from everyone involved with the NHL to bring hockey back within range of its pre-2004 popularity.
Now the NHL is willing to throw all that work away for a few dollars and cents. Frankly, the numbers, demands and disagreements don't even matter. In the end, everyone involved with the league is making a ton of money and that's never going to change. What does matter is the stigma the league is willing to create.
Fool me once, shame on you. Fool me twice, shame on me. The fans aren't going to be fooled twice. They are going to look at this situation and see a bunch of prima donnas who can't figure out how to get along and split millions of dollars fairly every few years.
It may only be September now, but with the lockout officially underway and no urgency emanating from either side to sit down and negotiate, this work-stoppage seems like it could last a while.
The Players' Association's representative, Donald Fehr, used to be the executive director of the Major League Baseball Players Association. His hard-line tactics have been notoriously scrutinized for years–and he does not appear to have outgrown them.
On the other side, NHL commissioner Gary Bettman has been running the business since 1993 and has never allowed intense discontent from NHL players to faze him. Much like Fehr, Bettman's attitude has always been "my way or the highway." The head-butting that could ensue between the two faces of the respective parties has Vegas booking better and better odds that the season could be cancelled. Again.
The overarching outside opinion is that these guys need to do themselves a favor and get a deal done quickly. Just don't count me in as being optimistic about that happening.
(Visited 67 times, 1 visits today)