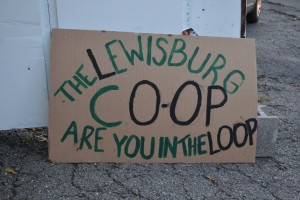 Elizabeth Bacharach
Senior Writer
In an effort to expand its horizons in terms of members, volunteers, etc., the Lewisburg COOP held an Open House on Sept 24. In a recently refurbished garage on Cherry Alley, the members of the COOP welcomed passersby and potential members, illustrating what has been termed as the LOOP's initiative, processes and partnerships.
The LOOP has been operating since May 2005, and it started with the goal of simplifying food shopping and consolidating peoples' access to healthy and local options.
Story continues below advertisement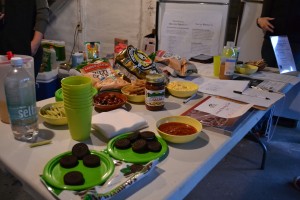 "It doesn't make sense to have to drive to nine different stores to get your groceries," member Sam Pearson said.
"The LOOP was formed to fill a niche in the community, working in a sustainable and green way," member Phoebe Faden said.
Membership begins with a $50 deposit that is refundable, in addition to four to 12 volunteer hours per year depending on the scale of purchases or a cash out at $15 an hour instead of labor. Orders are made at each delivery, which vary depending on interest. Members can order cases of groceries, produce from Community Supported Agriculture (CSA), local dairy and eggs or local meat and fish sources.
The LOOP prides itself on ordering and providing members with the ultimate local goods at manageable prices.
"The prices for packaged foods are comparable with grocery stores, but more connected to the local economy. We cannot compete on price with discount big box stores," Pearson said.
Nevertheless, members still embrace the LOOP as it connects them to "farmers they would otherwise only be able to access at intermittent farmers' markets," Pearson said.
"It appears to me that the LOOP does a great job connecting the Lewisburg community to local farmers, enabling the society to work together positively," Ali Lafferty '16 said.
Although students like Lafferty find the LOOP enticing, it's fairly difficult for University students to contribute in membership. A majority of members are those, as Faden states simply, "with a pantry." The LOOP requires buying in bulk; orders are by the case, but members can mutually split and share cases at the time of ordering.
According to "Bucknell Facts 2011-2012", 85 percent of undergraduate students live on campus. This means that a majority of students do not have access to his or her proper kitchen, or rather a pantry. Furthermore, most students are on a meal plan, thus their daily eating is taken care of.
"I would order food as long as it was an easy process and they offered types of food I like and would consume on a generally daily basis," Julie Hendrickson '14 said.
"It is pertinent that we, the community or students that are able to, work with the LOOP, as local farmers work hard at what they do and buying from them is an easy convenience to eat healthier and stimulate the local economy," Lafferty said.
The LOOP has made it far since its beginning seven years ago. The Open House took place in a garage, which, according to Faden was quite the improvement.
"The LOOP is moving forward, becoming more centric, concentrated to one place," Faden said.
This isn't to say that the LOOP team is not looking towards the future.
"The pie in the sky is a storefront. Operating as a full service store with staple goods as well as local foods," Pearson said.
However, this is premature, as the LOOP needs more members to generate a larger team as well as an increase in capital. Thus, with the hopes of "getting their name out there," as Pearson put it, the Open House was hosted.
"The Open Houses seem to be a good option because the idea of the COOP is hard to grasp without seeing the site," Pearson said. "In addition to such events, we mostly rely on word of mouth to publicize."
The future is not possible without the volunteer work of the existing members of the LOOP and others.
"[Students] can just get involved by volunteering to help out either with deliveries or the upkeep of the facility," Pearson said.
"Students will be more enticed to contribute if there are possibilities of volunteer experience or internship positions," Phuong Nguyen '15 said.
"Greek members should work with the COOP for community service hours," Hendrickson said.
In addition to the understood volunteer experience and positions, Pearson welcomes anyone that "could help create a WordPress or Blogger site for us [the COOP]" as they no longer have a website.
In Pearson's eyes, being a member of the LOOP is all about eating in season and caring about fuel, energy and the environment.
"Students can make a point of learning about the region and finding out what the area and local climate produce, as well as supplement their book learning with lessons in practical arts like canning and preserving–something the Craft Center does offer," Pearson said.
(Visited 53 times, 1 visits today)