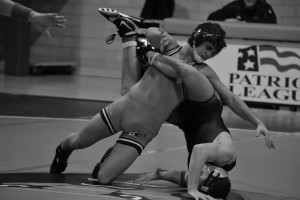 Andrew Arnao
Sports Editor
Paul Petrov '16 has only been a member of the men's wrestling team for a short time, yet the 133-pounder has made a positive impact on his way to a breakout season. He has an overall record of 16-10, but has been on a tear recently, going 7-2 in his last nine matches.
Petrov first opened eyes when he started off his collegiate career with three straight wins, including a 14-1 major decision and a 18-8 major decision. Petrov would later increase this hot streak to an 8-2 record, before hitting a rough patch in December with four straight losses to close out the year.
Story continues below advertisement
Looking to start 2013 on a positive note, Petrov recorded an 18-3 technical fall over Michigan State's Christian Olanowski. After losing two more bouts, Petrov began his current 7-2 win streak, which included his first collegiate pin against Columbia's Andrew  Grabfelder. Petrov also recorded three major decisions during this span.
With an injury to 125-pound wrestler Austin Miller '15, Petrov will be depended upon for the remainder of the season to give the Bison a strong start to their matches. Look to see if Petrov is up to the challenge Friday and Saturday as the men's wrestling team faces Clarion and American in two matches on the road.
Hometown: Cedar Lake, Ind.
Major: Undeclared
Weight Class: 125/133
Overall record: 16-10
Dual record: 9-8
Tournament record: 7-2
Biggest decision: Pin (4:08) against Columbia
(Visited 255 times, 1 visits today)