Katie Mancino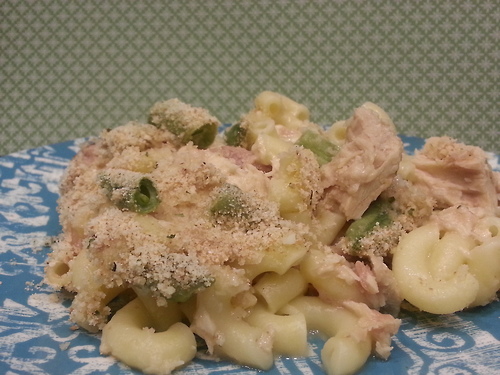 Tuna Noodle Casserole Re-Done
294 calories, 7 g fat, 34 carbs, 41 g protein
Makes 6 servings
Story continues below advertisement
Ingredients
2 cups dry elbow pasta (I use Dreamfields Healthy Carb Living pasta)
1 Tbsp Land O'Lakes Light Butter
1 Tbsp flour
1 cup skim milk
4 oz Cabot Extra Light Cheddar
6 Tbsp parmesan
1/2 bag frozen Steamfresh green beans
3 cans chunk white tuna
2 Tbsp Italian bread crumbs
Directions
1. Heat oven to 350 F and cook pasta.
2. Melt butter over medium low heat, add flour to make a roux, add milk and let cook for one minute.
3. Add 4 tablespoons of parmesan and the cheddar. Cook for 5 minutes until it is a thick sauce.
4. Toss sauce, pasta, green beans and tuna and spread in a casserole dish.
5. Mix remaining parmesan and bread crumbs together and sprinkle over the top of the dish.
6. Bake for 30 minutes until bubbly around the edges.
(Visited 31 times, 1 visits today)