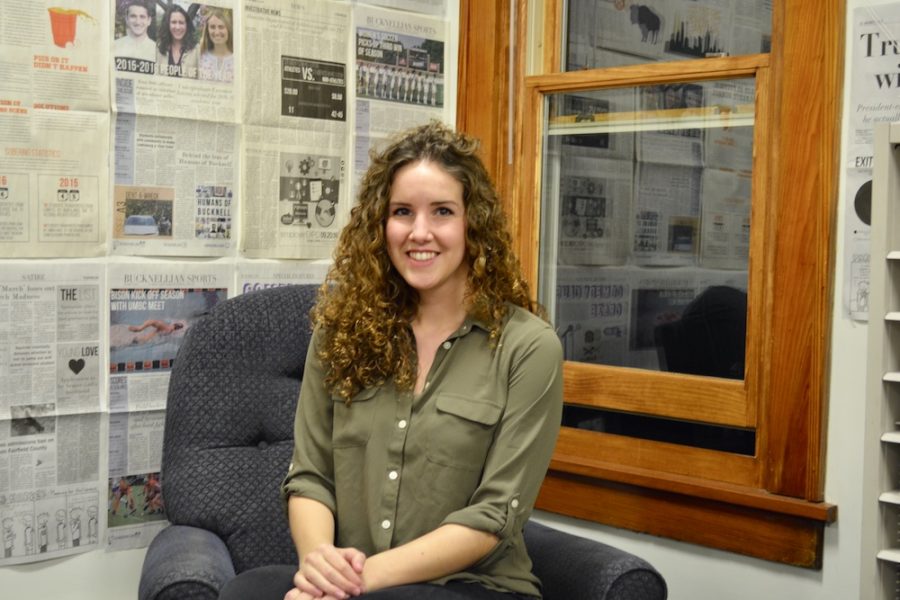 Creative Writing '19, New Brighton, Pa.
Madison joined The Bucknellian during her first semester and has been working to improve her grammar ever since, all in preparation to join the Edit
orial Board as assistant news editor. She is very excited to spend her Wednesday nights in Stuck House this semester.
Outside of The Bucknellian, Madison can be found dancing, doodling, eating chocolate, overusing commas, and exercising her complete inability to tell an interesting story face-to-face.
Madison Weaver, Assistant News Editor
Apr 25, 2019

Senior Class Tribute

(Story)

Jan 31, 2019

Trump's Twitter analyzed in BIPP survey

(Story)

Jan 24, 2019

Digging deep: Students and professors study Alaskan volcanoes

(Story)

Sep 13, 2018

Kappa Delta Rho supporting suicide awareness

(Story)

Nov 30, 2017

A spotlight on early graduates

(Story)

Nov 16, 2017

Camillo Lazarczyk wins BizPitch 2017

(Story)

Nov 02, 2017

Digital pedagogy and scholarship earns special achievement in GIS

(Story)

Oct 26, 2017

Bringing together multicultural communities and Greek life

(Story)

Oct 19, 2017

Shepherd interns assist struggling communities

(Story)

Oct 05, 2017

Alcohol related transports decreased by half since 2015

(Story)

Oct 05, 2017

Professor receives National Science Foundation Grant

(Story)

Sep 28, 2017

University joins effort to stop White House travel ban

(Story)

Sep 21, 2017

Grand opening of Lewisburg's Children's Museum

(Story)

Sep 21, 2017

Bison on the move: Mascots find new homes on campus

(Story)

Sep 14, 2017

Marketing for social change

(Story)

Sep 07, 2017

Hope for Houston: Community joins relief efforts

(Story)

Aug 31, 2017

Introducing the College of Management

(Story)

Apr 27, 2017

Cadigan Prize award recipients share winning work in annual reading

(Story)

Apr 27, 2017

Screening of 'Lemonade' sparks discussion on identity, race, and art

(Story)

Apr 13, 2017

Sciences reach out to local students to spark interest in STEM

(Story)

Apr 13, 2017

Announcing the fall 2017 Editorial Board of The Bucknellian

(Story)

Apr 13, 2017

University Hillel hosts Passover Seder to share culture and traditions

(Story)

Apr 06, 2017

Killing the black body: Dorothy Roberts discusses race and reproduction

(Story)

Mar 30, 2017

Asian Gala celebrates heritage, shares culture through food and art

(Story)

Mar 02, 2017

BSG announces WSJ online access for students, faculty

(Story)

Mar 02, 2017

'Next to Normal' is anything but conventional

(Story)

Mar 01, 2017

Visiting author discusses the history of the black body in medicine

(Story)

Feb 16, 2017

Fareed Zakaria announced as keynote speaker for 167th Commencement

(Story)

Feb 16, 2017

Professors continue to protest Trump's presidency

(Story)

Feb 16, 2017

Countering the sexism of stand-up: 'Nell Party hosts first all-female comedy show

(Story)

Feb 02, 2017

Professor of anthropology Bayo Holsey kicks off Griot Institute spring series

(Story)

Jan 26, 2017

Students, staff, faculty partake in celebrations and protests surrounding inauguration of Donald Trump

(Story)

Dec 01, 2016

By the people, for the people: A new BSGeneration

(Story)

Nov 11, 2016

Professor works with students to revitalize endangered language of Native American tribe

(Story)

Nov 03, 2016

Social media hoax reports death of two University students

(Story)

Oct 27, 2016

First luminary ceremony raises breast cancer awareness

(Story)

Oct 20, 2016

Librarians work to make Wikipedia more inclusive with 'Wiki Loves Pride' event

(Story)

Oct 06, 2016

Alumni psychologist works to protect children from abuse

(Story)

Sep 29, 2016

'Paint Bucknell Pink' raises thousands for breast cancer awareness

(Story)

Sep 22, 2016

Jesse McCartney shares his 'Beautiful Soul'

(Story)

Sep 15, 2016
Sep 10, 2016

New Dean of Engineering is ready for the challenge

(Story)

Apr 28, 2016

How can mathematics improve healthcare?

(Story)

Mar 31, 2016

Over 50 student emails compromised by hacking incidents

(Story)

Mar 10, 2016

WSU professor explores education in lecture inspired by John Dewey

(Story)

Feb 25, 2016

Oceanographer considers implications of conspiracy theory on science

(Story)

Feb 18, 2016

Monica Simpson promotes activism through speech and art

(Story)

Feb 05, 2016

Contemporary tap company hosts week of events

(Story)

Jan 27, 2016

Four Sandy Hook fathers discuss loss and violence

(Story)

Dec 03, 2015

Campus Buildings Undergoing Mass Construction

(Story)

Oct 29, 2015

University professor shares work as newfound novelist

(Story)

Oct 23, 2015

American Chemical Society's Spooky Science Show

(Story)

Oct 07, 2015

WVBU Revives Prisoner's Request

(Story)