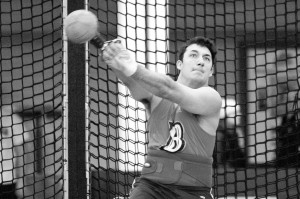 Andrew Arnao
Sports Editor
Leonard "Lenny" Joseph '13 has worked hard for a long time, and thanks to his dedication and perseverance, a school record is now his. Joseph was one of two Bison men last weekend to set new school records at the Bison Outdoor Classic, as he threw the hammer for 209-11, shattering the previous mark that had stood for 17 years. Joseph was also the only thrower in his event to clear 200 feet, allowing him to easily win gold.
Story continues below advertisement
Joseph has had a great year for the Bison in both indoor and outdoor field events. In 2012, he registered a distance of 157-10 in the discus, good for seventh-best in school history. A couple of months ago, Joseph moved into the second place all-time in the weight throw with a distance of 65-0 3/4, which is second-best all time and just 10 inches behind the current record holder Tyler Hoffman '07.
But the hammer throw has become Joseph's crowning event. He has yet to be defeated in the event this spring, claiming two gold medals in both meets he has participated in. Both of his distances have already qualified him for the IC4A Championships in May.
Other recent honors for Joseph include being named to the Academic All-Patriot League Team along with fellow record-breaker Luke Webster '13 following the indoor track and field season. Joseph also earned All-East honors after earning first place in the weight throw at the IC4A championships in March.
"The first couple meets have given me a solid start and a pretty competitive national ranking, and that I'm looking forward to the championship portion of the season," Joseph said. "Also, I'm very optimistic about [Webster's] chances in the discus going into the national meet."
Joseph is nearing the end of his career as a Bison, but he has certainly left his mark. He has won three individual Patriot League Championships, including back-to-back victories in the hammer throw and a top finish in the weight throw last year. Considering his dominance in the hammer event, expect more awards to come Joseph's way by the end of the spring season.
Hometown: Whitesboro, N.Y.
Major: Psychology
Best hammer throw distance: 209-11 (school record)
Best weight throw distance: 65-0 3/4 (second all-time)
Best discus distance: 157-10 (seventh all-time)
(Visited 121 times, 1 visits today)