Volleyball starts off with victory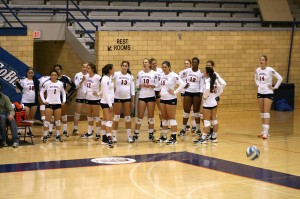 Katherine Harris
Writer
The women's volleyball team started off their season strong this weekend, beating both La Salle and Manhattan on Saturday afternoon before falling short against Niagara and Loyola on Sunday.
"Our hard work during the summer and preseason has definitely paid off. Everyone stepped up and gave it their all throughout the whole weekend. I was very impressed by our freshmen; they got on the court, maintained positive attitudes, and made significant contributions," said Kebah Edoho '13.
The Bison began their season with an impressive 3-1 win against the home team in the La Salle Invitational. Many athletes stood out in the game, including Morgan Mientus '14 with a career best 16 digs, Kat Tauscher '13 with 17 assists, and Edoho with five blocks, more than the entire La Salle team combined. Also impressive were the contributions made by rookie members of the team, as Meghan Wentzel '16 racked up 17 assists, along with four blocks from Karen Campbell '16 and ten kills from Claire Healy '16.
Success continued for the Orange and Blue as they faced Manhattan, coming out with another 3-1 victory. Edoho once again anchored the team's defense with 6 blocks, and Mientus crushed her career record once again with 25 digs. Tauscher and Wentzel also both stepped up, with the senior pulling in 26 assists and the freshman finishing with 18 assists and 10 digs.
"This weekend was a pretty big surprise in the past two years that I've been on Bucknell's team we have never started off so strong. I see really good things in our future. I think we got all of our first tournament jitters out and will only go up from here," said Mientus.
After a strong opening day, the Bison faltered in their first match on Sunday, losing to Niagara in three straight sets. Individually, many of the Bison still had strong performances, with Tauscher and Wentzel pulling in 14 and 13 sets, respectively. Mientus also continued to post high stats, with 24 digs in the match, and Edoho had 12 kills and a .478 attack percentage.
Finally, the Orange and Blue lost a tough last match to a strong Loyola squad who went 4-0 on the weekend. Jessica Serrato '14 stepped up on offense with 10 kills, along with Tauscher and Wentzel holding solid in the assists column, but the effort just wasn't enough as the Bison fell to the strong attack of their undefeated opponent in three sets.
"We have been working so hard since August 7th so it's nice to finally have the hard work and commitment pays off. Although we went 2-2 this past weekend, we faced some tough competition. We all left the weekend with a 'good taste' in our mouths because of the future potential we saw play out on the court," Healy said.
The team will now prepare for their upcomingmatch this weekend at the Robert Morris/Duquesne Invitational on Friday and Saturday.
(Visited 56 times, 1 visits today)