M. swimming wins home meet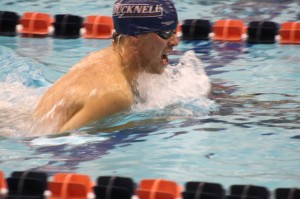 Scott Padula
Staff Writer
In the first home meet of the year, the Orange and Blue men's swimming and diving team defeated Lafayette 186-112. The Bison dominated the meet throughout, winning 14 of a total 16 events. Further demonstrating their dominance, the Orange and Blue swept the Leopards, maintaining all three top spots in six different events. With the win, the Bison are now 3-2 overall and 2-1 in the Patriot League on the season.
"It did not take much for the team to be ready; all week we were itching to race. By the time it was the start of the meet, it was full force by the Bison. I think this speaks a lot to the coaching staff and the work we have put in so far. We are determined and we do not plan on changing our attitude moving forward," Billy Krause '13 said.
Leading the charge was Mike Nicholson '14 who captured three individual victories on the day. Nicholson first won the 1,000 freestyle by 22.46 seconds before taking the 100 breast and 200 backstroke. In the latter two events, Nicholson set personal bests with times of 58.22 and 1:56.05, respectively. In 12 individual races on the season, Nicholson now has 10 victories and two second place finishes.
Joining Nicholson with multiple victories on the day were teammates Christian Treat '13 and Matt Hadley '14. Treat defeated his competition in the 200 freestyle and 200 IM, while Hadley swam to victory in the 100 backstroke and 500 freestyle. Other Bison winners included Krause, Bryce Suchomel '13, Trevor Reitz '14, Chris Ortiz '16 and Tyler Wenzel '16.
"The Lafayette meet was a great indicator of our energy level and enthusiasm for this upcoming season. Our men have displayed a level of confidence that was invigorated by the large support of the Bison fans this past Saturday. This is what we need to build off of and is especially important when we are going into a stretch of the year that will be particularly tough," Treat said.
The Orange and Blue will swim in the Kinney Natatorium again this weekend when they host the Bucknell Invitational Nov. 16-18.
(Visited 63 times, 1 visits today)