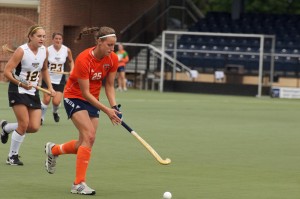 Andrew Arnao
Senior writer
In two home games, the field hockey team defeated Towson on Sept. 15, shutting out the Tigers 6-0, and fell to Ohio State 3-1 the next day. Forward Kiersten Sydnor '16 earned her third Patriot League Rookie of the Week award, while goalie Erica Perrine '14 snagged the Patriot League Goalkeeper of the Week award for the second time this season.
Story continues below advertisement
"After stumbling a bit against Columbia and St. Francis (Pa.) last weekend, the team's mindset going into this weekend was to get back into the rhythm we had at the beginning of the year," Perrine said. "We established a theme of being 'relentless' and to never stop fighting for every ball, regardless of whether or not we were winning or losing."
The defense did just that in the first half against Towson, not allowing a single shot on goal. The Orange and the Blue had 10 shots in the first half, and broke out for five of their six goals in the second half, led by two goals apiece from Sydnor and defender Tayler Siegrist '13. Perrine finished with two saves and her third career shutout.
"Saturday's game against Towson was an exciting one, especially because it was our first shutout," Sydnor said. "Our defense was exceptionally strong, as was our offense. We were able to capitalize on our offensive corners on Saturday, which I think accounted for half of our goals."
The same offensive breakout proved difficult against Ohio State, as the Bison were unable to score until Siegrist knocked in a penalty stroke with only 13 seconds remaining. Ohio State eventually triumphed, but there was controversy over whether the third Buckeye goal crossed the goal line. The defense put up an impressive display once again, led by Perrine and her season-high 13 saves.
"We were extremely excited to play a Big Ten team, but along with that excitement came nerves in the very first few minutes of the game," Siegrist said. "Once we realized that we were just as good as them though, things turned around."
"Unfortunately, I think there were a couple of bad calls that went in Ohio State's favor and a couple of key moments that we failed to capitalize on that could have been game changers. Throughout the entire game, the team never gave up," Perrine said. "Ohio State was a bit more challenging, but choosing to battle rather than accepting defeat was our mindset, and we were able to hold them off for much of the game, generating our own shots and goal-scoring opportunities."
The Bison (5-3) return to action this weekend with two home games against nationally ranked Michigan tomorrow at noon, and Temple on Sept. 23 at 2 p.m.
(Visited 93 times, 1 visits today)