Football falls short against Lafayette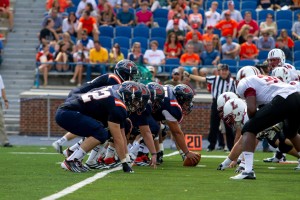 Eric Brod
Senior Writer
In 2011, the Bison prided themselves on taking care of the football and forcing other teams into mistakes, leading them to have the highest turnover margin in the nation. The Orange and Blue fell victim to such mistakes, turning the ball over three times en route to a 20-14 loss in their home opener Saturday afternoon against Lafayette.
Despite the three turnovers, the Bison showed tremendous fight. Trailing Lafayette 20-7 with 6:44 to play, Brandon Wesley '14 led the offense on a nine play, 73-yard drive that was capped by Wesley's 12-yard rushing touchdown that cut the deficit to 20-14. After failing to recover the ensuing onside kick, the Bison were able to force the Leopards to punt, giving the Bison a chance to score the go-ahead touchdown. The offense began the drive at their own 20-yard line, and could not move past midfield as Wesley was unable to connect with receiver Josh Brake '15 on a 4th-and-21 that sealed the Orange and Blue's fate.
Throughout the game, the Orange and Blue were uncharacteristically undisciplined, committing eight penalties and three turnovers (two interceptions and one fumble).
"Our offense is built on the run setting up the pass. We need to be better at staying on schedule in early downs to maintain a run-pass conflict," Head coach Joe Susan said. "Our turnovers are something we must eliminate in order to have a chance as a team. We also need to create turnovers by our defense and special teams. We practice ball security and ball disruption every day. This will change."
Even in the loss, the defense once again showed why they are one of the top units in the league. The defense, led by a team high 10 tackles from safety Ryan Morgan '14, held the Leopards to just 11 yards rushing on 31 carries. The team as a whole registered 13 tackles for loss, led by three and a half from safety Lee Marvel '15. Defensive back Donald Quarles '13, had a career day with five passes deflected.
"I am impressed by how our defense has stopped the run. We are ranked fourth in the FCS in rushing defense and 28th overall," Susan said.
Wesley had an up and down day, going 18-33 passing for 239 yards with two touchdowns (one rushing) and two interceptions. He also tied a career high 76 yards rushing.
After trailing 17-7 at halftime, the Bison outgained the Leopards on offense 223-128.
The Orange and Blue will look to rebound tomorrow night at 6 p.m. as they welcome Cornell to Lewisburg.
"Cornell is an offense based on the production of their passing game. Their QB like ours is a three year starter and one of the better QBs we will see this year," Susan said. "One of the best ways to defend a team like this is our offense moving the ball more effectively and not putting our defense in compromised field position."
(Visited 63 times, 1 visits today)