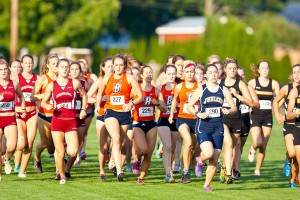 Billy Tyler
Contributing Writer
The men's and women's cross country teams divided their squads last weekend to compete at both Pre-Nationals in Louisville, Ky. and the Gettysburg Invitational in Gettysburg, Pa. The divided teams produced varying results at two premier events with extremely competitive fields.
Pre-Nationals, featuring a strong national caliber field, presented a tough test for the Orange and Blue. The men's team goal to finish in the top half of the competitive field was hindered by some bad luck, in the form of several falls early in the race to key runners, including Glen Williams '15 and D.J. Krystek '13. John Dugan '15 managed to finish the eight-kilometer course strongly coming in 146th place with a time of 24:48.3. He was followed by Michael McGowan '15 in 177th (25:05.1), Charles Seigneur '13 in 188th (25:08.4), Andrew Garcia-Garrison '15 in 190th (25:10.1) and Tyler Erhard '14 in 243rd (25:54.7).
Story continues below advertisement
"[The falls] really cost our team quite a bit," head coach Kevin Donner said.
Donner is still confident his team gained valuable experience from the event and will bounce back to perform well at the Patriot League Championships.
The women's team had similar results in the event, which featured a fast and aggressive field. The quick pace left several members of the Bison struggling to sustain the tempo in the last bit of the six-kilometer race. Leading the way for the Bison was Caroline Tolli '13, who finished 13th overall with a time of 21:47.
Both teams fared better at the Gettysburg Invitational. The men's team had a second place finish out a field of 35 teams. The team also had two members finish in the top 20 in of the eight-kilometer race, with Andrew Kuchta '16 (26:02) and David Strauss '14 (26:09) taking ninth and 18th place, respectively. The Bison finished the event with a total of 70 points, second only to Lock Haven with 50 points.
The women's team had an equally strong result at the event, taking the third place spot in a field of 36 schools. Just as with the men's team, the women's team was led by members finishing in the top 20, with Becky Snelson '15 (23:13) taking 17th place and Emily Waksmunski '14 (23:18) taking 19th place.
"Overall, everyone ran really well this weekend, and I think it was a good confidence booster to have this as our last meet before Leagues," Snelson said.
Many of these reserves provided solid results and several were able to earn spots on the travel roster for the team's next event, the Patriot League Championships, which will take place on Oct. 27 in Hamilton, N.Y.
(Visited 71 times, 1 visits today)