Men's water polo goes 2-0 at Navy Labor Day Open to begin season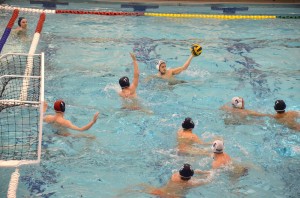 Scott Padula
Staff Writer
The men's water polo team kicked off their 2012 campaign by going 2-0 this past weekend when they traveled to Annapolis, Md. to compete in the Navy Labor Day Open. The Orange and Blue started the tournament on the right foot, defeating Notre Dame (Ohio) 24-9. The Bison kept their momentum alive in their second game of the weekend by beating Iona 14-12. Under second-year coach John McBride, the Orange and Blue are now 9-2 in the month of September.
The Bison had a strong showing to begin the season. The Orange and Blue scored early and often against Notre Dame (Ohio), finding the back of the net 14 times in the first two quarters. More impressively, 23 of the 24 Bison goals in the game were assisted. Jack Else '14 led the Bison scoring barrage with five goals, setting a new career-high. Joining him with multi-goal performances were teammates Brian Barron '13, Stefan Aleksic '16, Julian Colina '14, Mike Kimble '14 and Alex Nowlin '14. In total, 14 different Bison recorded a point in the decisive victory, while the team as a whole, registered 17 steals.
In the team's second game of the tournament, the Orange and Blue won against Iona. The Bison and Gaels traded goals throughout the first half, resulting in a 5-5 draw going into the intermission. In the second half, the Orange and Blue came out strong, scoring seven times in the third quarter, and never looked back. Barron and Nowlin led the Bison in points, registering five a piece, while Aleksic, Colina and Uros Markovic '14 also contributed with multi-goal games. Additionally, senior co-captain Matt Napleton '13 was strong in goal, making seven saves in 32 minutes of action.
The Bison will continue their busy schedule as they head to Princeton this weekend for the Princeton Invitational. The Orange and Blue will face St. Francis (N.Y.), the University of California, Brown and Fordham over the course of three days.
(Visited 56 times, 1 visits today)