Bison Athlete of the Week: Sandita McDermott '13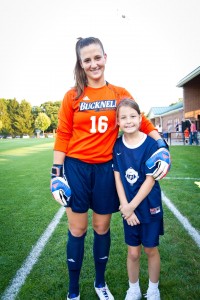 Alex Wagner
Sports Editor
Player Profile
Sandita McDermott '13
Rhinebeck, N.Y.
International Relations & Economics
Season stats:
Five starts in five games
Two shutouts
17 saves
The women's soccer team has seen a remarkable early season turnaround. After conceding five goals in two tough losses to open the season, the Bison defense, led by goalie Sandita McDermott '13 has tightened up to allow only one goal in the past three games. Thanks to the strong defensive effort, the Bison won those last three games against quality opponents.
"Coming off of two losses is difficult, but having the turnaround has really given the defense and the team as a whole a boost of confidence that has allowed us to have success in the past three games," McDermott said.
In Sunday's 3-0 victory over St. Bonaventure, McDermott made six saves. This strong individual performance gave her a ninth career shutout, tying her for fourth on the Bison's all-time list.
"As a goalkeeper, shutouts are the ultimate definition of success … and being able to hold a team for 90 minutes is really relieving and rewarding, and it is made possible through maintaining focus, but more importantly the hard work of the 10 girls in front of me," McDermott said.
(Visited 116 times, 1 visits today)