Women's soccer wins blowout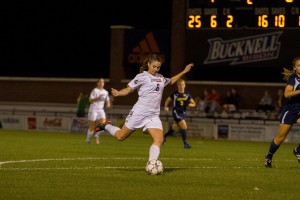 Ajan Caneda
Copy Editor
Forward Chelsey Garkowski '14 scored four goals that powered the women's soccer team to a 5-0 victory against Canisius on Sept. 21. Garkowski is the third Bison player in program history to have a four-goal performance and she is one of four players in Division I soccer this season to score four goals. The win marked the Orange and Blue's largest shutout of the season.
"Chelsey is a great player. She works hard and fights for every ball. She deserved that game and all those goals," forward Cassie Denger '15 said.
In a half that featured 21 Bison shot attempts, Garkowski showcased her powerful offense. The Bison got off to another quick start, as Taryn Boucher '13 delivered a pass up the right wing to Garkowski for the first goal in the seventh minute. Despite 10 saves by the Golden Griffins, the Bison attack was too much to handle, as Bridget Gilmartin '14 dished an assist to Garkowski for another goal in the 16th minute. Garkowski nailed her third straight goal off an assist from Courtney Nelson '15 to bring the score to 3-0 at the half.
"We played really well on Friday, and on offense we had great combinations and were able to find the back of the net," forward Kayla Yee '13 said. "Chelsey had an amazing game with four incredible goals, and our defense was solid and kept them off the scoreboard."
Nelson picked up right where she left off in the second half, launching a cross-pass to Yee, which led to the fourth Bison goal in the 56th minute. Garkowski, who had eight shot attempts, capped off an incredible performance as Nelson had her third assist in the game on a chip pass to Garkowski, who found the back of the net in the 62nd minute.
"Our team worked together to win the ball and give our forwards the opportunity to go towards goal. We are so ready to start league play and show everyone in the Patriot League what we are all about," Denger said.
It was an offensive driven game as the Orange and Blue outshot Canisius 29-20, but the Bison defense prevented the Golden Griffins from finding the net. Goalie Sandita McDermott '13 secured her fifth shutout of the season with six saves in 68 minutes of action. Jessie Ashworth '16 finished out the game with a save of her own. Head coach Ben Landis played all 22 field players in the win.
The Bison start Patriot League play at home against Colgate tomorrow afternoon at 2 p.m. The Orange and Blue will also travel to Penn State on Oct. 2 to face the Nittany Lions at 7 p.m.
"Overall, we are playing great soccer and I still think we can be even better. I know we are all excited for Patriot League play and to start with a win against Colgate," Yee said.
(Visited 178 times, 1 visits today)