Wrestling loses twice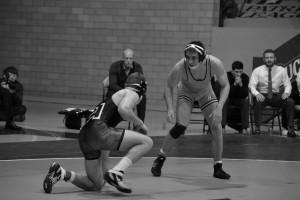 Billy Tyler
Assistant Sports Editor
The men's wrestling team dropped its last two road dual matches of the season this past weekend. The Bison fell to Clarion 25-16 on Feb. 15 and were defeated by American 21-17 the next day.
The Orange and Blue put in a solid effort against Clarion, but were unable to overcome a forfeit in the 125 lb. match, despite winning four of the nine contested bouts. Paul Petrov '16, Corey Lear '13 and Joe Stolfi '15 all entered the match against Clarion on hot streaks, continuing them in the match. Petrov, winner in seven of his last nine matches, won a major decision 16-6 in the 133 lb. match. Building on his 15-2 record in his last 17 matches, Lear gained a victory against Clarion on a 16-0 technical fall. Stolfi won his match in a 10-2 major decision to build his winning streak to 10 in the last 11 matches. Also finding victory for the Bison was Robert Marchese '16 who doubled his season wins in his last six matches with three wins. Marchese won by an 8-4 decision in the 184 lb. match.
A similar story unfolded for the Bison the next day. Although the team won five of its nine contested bouts, it was unable to overcome a forfeit in the 125 lb. class and a pin in the 149 lb. class. Despite entering the final bout of the match with a chance to win following Tyler Lyster's '15 technical fall victory in the 197 lb. match, the Bison were unable to pull out the victory. Other Bison winners in this match include Petrov (7-3 decision), Derrik Russell '13 (5-2 decision), Vincent Favia '16 (3-2 decision) and Lear (4-3 decision).
The Bison close out their regular season Friday at 7 p.m. in Davis Gym against Lehigh.
(Visited 78 times, 1 visits today)