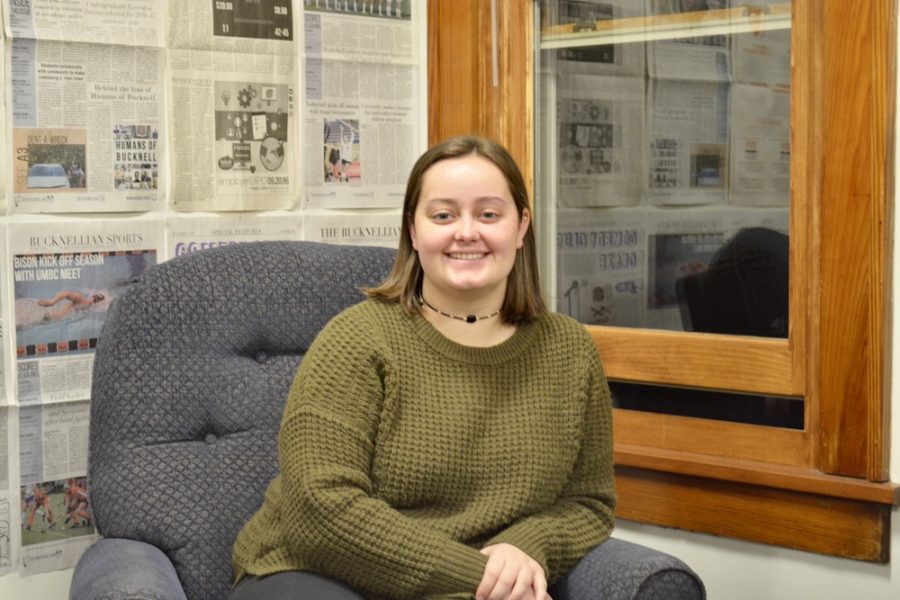 Political Science & English '17, Thornton, Pa.
One of Courtney's three friends joined The Bucknellian during freshman year so she figured she might as well try it out too. She has loved it ever since and has no idea what she is going to do on Wednesday nights once she graduates. This past fall, she was proud to be one of the co-editors of the satire section and is excited to continue her track of begging people to write for it. She's bummed that many of her writers are going abroad and is actively looking for new ones! (
ctw007@bucknell.edu
)
In her free time (which is not as abundant as one might think) you can catch her watching one of John Mulaney's two comedy specials on Netflix, acting ridiculous in the drive-thru line of the Lewisburg Wendy's, or begging people to tell her that she's funny. She also enjoys bugging everyone she meets and is often referred to as a self-deprecating narcissist.
Courtney Wren , Satire Co-Editor
Apr 20, 2017

First years have great time at Open Suites, know they'll sail right through recruitment

(Story)

Apr 13, 2017

Roommate throws out all of roommate's belongings that littered the floor

(Story)

Mar 30, 2017

MGMT 101 student promises this is seriously the last survey ever guys and it will only take 1.2 seconds

(Story)

Mar 09, 2017

Student parks in 15-minute parking indefinitely because rules don't apply to them

(Story)

Mar 02, 2017

The List: Highly recommended ways to introduce yourself at a career fair

(Story)

Feb 16, 2017

University student's toxic defecation results in evacuation of Bertrand Library

(Story)

Feb 16, 2017

Panicked second-semester senior joins random clubs in hopes of gaining graduation cords

(Story)

Jan 26, 2017

English major secures coveted finance job, School of Management students revolt

(Story)

Dec 01, 2016

Liberal student returns to campus with different political views after spending all break with conservative family

(Story)

Nov 17, 2016

The List: Discussion topics for Thanksgiving dinner

(Story)

Nov 03, 2016

University student purchases first pair of winter boots after experiencing PA climate

(Story)

Oct 20, 2016

Students sign downtown lease, try to forget about the previous tenants

(Story)

Oct 06, 2016

Squirrel internally debates whether or not to jump out and scare innocent student

(Story)

Sep 22, 2016

Students forced to hide political paraphernalia during Family Weekend

(Story)

Sep 22, 2016

Students discover weekly newspaper after seeing reports of decapitation

(Story)

Sep 15, 2016

Downtown café closes; students chain themselves to building in protest

(Story)

Sep 15, 2016

The List: Things we would rather do than go to the Bison at noon

(Story)

Sep 08, 2016

The List: Things that take longer than Brock Turner's jail sentence

(Story)

Sep 01, 2016

The List: Things professors expect you to have for the first day of class

(Story)

Apr 01, 2016

Frackets You May Know

(Story)

Apr 01, 2016

How to talk to your parents about your differing political views

(Story)

Feb 11, 2016

A capella groups unite for B.A.C.E.S

(Story)

Feb 05, 2016

Casino Night brings Vegas to Lewisburg

(Story)

Jan 27, 2016

Students Win Big at Bingo Blingo

(Story)

Apr 16, 2015

Thirteen ways to fray the nerves of Public Safety

(Story)

Apr 09, 2015

Annual Showcase puts spotlight on choreographers

(Story)

Apr 02, 2015

Eager girls forget to check weather during big party weekend

(Story)

Feb 12, 2015

If you're ridin' solo this Saturday…

(Story)